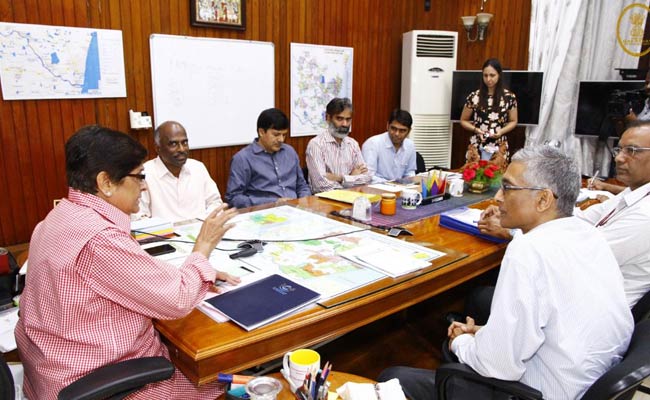 Chennai:
Puducherry's Lieutenant Governor Kiran Bedi today gave a crushing retort to Congress Chief Minister V Narayanasamy, posting a news report on social media that signalled the end of his hopes of gaining an upper hand on the Centre's representative through the Supreme Court verdict on Delhi.
Like Delhi, Puducherry has been witnessing a recurrent tussle for power between the elected government and its Lieutenant Governor.
Yesterday, Chief Minister Narayanasamy hailed the Supreme Court verdict that said it is the elected government, and not the Lieutenant Governor, who holds the real power in Delhi.
The verdict, Mr Narayanasamy said, would "100 per cent apply to Puducherry" and threatened legal action against "whoever functions contrary to the judgment". His party spelt it out, saying, "Hope Lt Governor Kiran Bedi mends her ways. She often mocks at elected representatives".
The news report Ms Bedi posted on social media today said the court had detailed how the situation of the two Union Territories are very different, since the constitution has given special status to Delhi under the Article 239AA.
The top court bench -- led by Chief Justice of India Dipak Misra - had said: "At the outset, we must declare that the insertion of Articles 239AA and 239AB which specifically pertain to NCT of Delhi is reflective of the intention of the Parliament to accord Delhi a sui generis status from the other Union Territories as well as from the Union Territory of Puducherry to which Article 239A is singularly applicable as on date".
The government of Mr Narayanasamy has been involved in a power struggle with Ms Bedi since her appointment in 2016 that mirrors the tussle between Arvind Kejriwal's government and the Lieutenant Governor.
Mr Narayanasamy has accused Ms Bedi of repeatedly undermining his government, blocking his decisions and overruling him. In January last year, the Congress and DMK legislators demanded that the Centre recall Ms Bedi, accusing her having a "dictatorial" style of functioning which bypassed the elected legislature.
Last year, the Puducherry assembly adopted a resolution to amend the law and curtail the powers of the Lieutenant Governor for good.