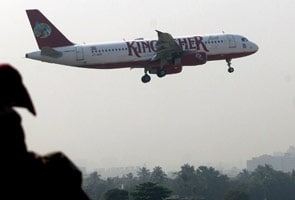 New Delhi:
Hundreds of passengers booked on Kingfisher flights are stranded, with the cash-strapped carrier cancelling 12 flights out of Mumbai and four of Delhi early this morning. There were large-scale cancellations over the weekend too and could land the airline in trouble with the Directorate General of Civil Aviation (DGCA).
From Mumbai, three flights to Hyderabad, two flights each to Ahmedabad and Delhi and one each to Kolkata, Chennai, Bangalore, Kochi and Lucknow have been cancelled today. From Delhi two flights to Chennai and one each to Kolkata and Bangalore have been cancelled. The airline has stopped its operations in Kolkata and cut down flight operations in the North-East. There are no flights listed today for Agartala, Silchar and Lilabari.
Passengers in Delhi said information from the airlines had been slow in coming; many said they landed up at the airport to learn that their flights had been cancelled. But in Mumbai, things were less chaotic than they were yesterday. There were fewer angry passengers at the airport, many having rescheduled their travel or just switched carriers.
And alarmed DGCA has said it is gathering information on the cancellations and delay of Kingfisher flights and will decide whether to initiate any action against the carrier. The DGCA says that if the reports are true, such large-scale flight disruption would constitute a violation of rules. "We have received reports about large-scale cancellations. They are bound to inform us when they cut their schedule. But they have not done so," DGCA chief E K Bharat Bhushan said, adding, "We are gathering information from all the centres. Once we get this, we will decide what to do."
Aviation rules require operators to have prior approval of the DGCA to curtail their flight schedules. Mr Bhushan said the DGCA had sent messages to all other airlines to accommodate passengers stranded due to the Kingfisher cancellations. "They have to do this without enhancing the fares," he said.
A statement issued by Kingfisher on Saturday said there had been flight disruptions since Friday and these would continue for four days due to unexpected events, including bird strikes which rendered aircraft out of service. Yesterday, Kingfisher, the country's third largest airline, had cancelled 16 flights from Mumbai. Several other Kingfisher flights from Mumbai were also delayed.
This is the second time in four months that Kingfisher has cancelled a large number of flights without informing either the Directorate General of Civil Aviation (DGCA) or the passengers. The cancellations come amidst reports that the airline continues to be in deep financial trouble and that one of its bank accounts has been seized by income tax authorities.
The disruptions are expected to continue for the next two or three days as the airline desperately seek equity infusion. A group of 18 banks, led by the State of Bank of India, that have lent to Kingfisher met on Friday to discuss the carrier's financial state and sources said Kingfisher hoped the banks would provide it with some working capital soon. There is no official word from either the lending banks or the airline on this yet. The Kingfisher management says that the cancellations are planned and that the airline will not shut down any existing operations.