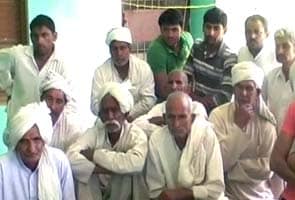 Sonepat, Haryana:
At first glance, they look more or less alike.
Hukka
in hand, maybe a packet of
bidi
for company, big turbans and a heavy voice. But scratch the surface and the differences are all but evident.
These are about a hundred odd representatives of various khap bodies from across the state, who have gathered at Sonepat in Haryana, to deliberate whether the age for marriage for girls should be reduced to 15-16 years.
There are just a handful of women around, and more than half of these are from the media, covering the maha khap panchayat.
Dr Santosh Dahiya from Deeghal village is one of them. She is a professor at Kurukshetra University, in attendance here to put before the panchayat, her views on rapes and women's age of marriage.
In the last one week, the khaps have been at the centre of a controversy, after one member, Sube Singh, suggested that if the age for marriage is lowered to 15 or 16 years for girls, it could perhaps help prevent rapes. The state has been grabbing the headlines with as many as 19 rape cases being reported in the last one month alone.
Dr. Dahiya launched a spirited attack in the media, blaming it for what she called was a complete misrepresentation of facts. "Why should we not follow traditions, who is the media to tell us what is right or wrong? One statement from a khap leader was blown out of proportion to such an extent as if khap panchayats were encouraging rape. It's more a reflection of the law and order in the state and the khaps are worried so they are bringing it up."
That was not all. One member went so far as to compare rape cases in Haryana to those in other states, shockingly saying, "Everyone is focusing on rapes in this state. But rapes are not restricted just to Haryana. They are taking place in other states also like UP, Rajasthan. In fact we don't have any VIP rape cases like there are examples in UP."
Sube Singh, whose statements to the media in the run up to the meeting had already stirred a journey's nest said, "The media does not show our side of the story. When we took a landmark decision against female foeticide, it was not taken up. Now my statement has been twisted. All I want to say is that in today's times, if something happens to a girl in the age of 14-16 years, she becomes the object of humiliation till she gets married. In such cases, perhaps if parents so wish, then they should be allowed to get their daughters married off early."
But a number of khap leaders also firmly stood by the law of the land saying they are completely opposed to lowering the age as they respect the constitution.
At the end of the two hour long deliberation over just this one issue, amidst clouds of hukka and
beedi
smoke, the meeting ended without any decision.
Kuldeep Singh Dhanda, Convenor, told NDTV, "This is not an issue that concerns just the Jat community, it concerns everyone. Other communities are not represented at this meeting, so we will shortly call for another meeting and take a call on this."
For the khaps that in the past have been associated with taking decisions against same sub-caste marriages and marriages in the same village, to banning mobile phones in Baghpat or even evening walks, reaching no decision, no decision for now is perhaps a good decision.