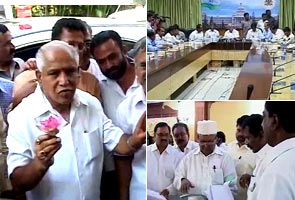 Bangalore:
The BJP government in Karnataka is trying to maneuver its way out of a massive crisis.
With 19 MLAs withdrawing support, 14 of them from the BJP, the Governor has asked the Chief Minister, BS Yeddyurappa, to prove his majority by 5 pm on October 12.
(Read: Governor's statement)
The group of those who've formally withdrawn support includes seven ministers in the BJP government. Four of them - all independent MLAs - have been dropped by Yeddyurappa from his Cabinet. They are: D Sudhakar, Venkataramanappa, Narendra Swamy and Shivaraj Tangadagi.
The provocation for the current churn is believed to be a recent Cabinet reshuffle which left several senior BJP leaders unhappy.
The chief minister is putting up the requisite brave front. "Within one or two days, the crisis will end," he said. But the Emergency Exit sign is blinking fast and furious. A loss of 19 supporters would put the government in a minority. (
Watch: Will expand Cabinet, says Yeddyurappa
)
That's why senior BJP leaders flew to Chennai to negotiate with the dissident MLAs who had set up camp at a hotel there. Ironically, one of the main firefighters is minister Janardhan Reddy. The controversial mining baron and his brother nearly split the BJP last year. "There is no threat to the government," Reddy said.
Home Minister R Ashok said that the BJP MLAs who are turning their backs on their party are "too junior to understand the implications" of their actions.
The rebel MLAs say they're tired of corruption in the government. Recently, former chief minister and JD(S) leader HD Kumaraswamy has accused Yeddyurappa of using his office to favour his sons in controversial land deals. (
Watch: JD(S) indulging in horse trading: Karnataka Home Minister
)
Privately, the rebels admit that he is behind the latest crisis. "The dissidence is of the chief minister's own making," says Kumaraswamy.
Some rebel MLAs admit they're open to joining the Congress and the JD(S) to form the next government. Whether the two opposition parties can leverage the current crisis to come together is now the big question.
Karnataka: How the numbers add up

224-member assembly; majority mark is 113. If 19 MLAs withdraw support, the government will be in a minority.