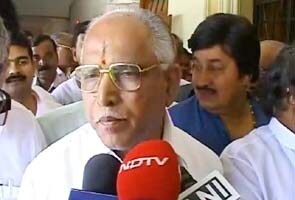 Bangalore:
Karnataka Chief Minister B S Yeddyurappa is worth an estimated Rs 11 crore, according to the official declaration of assets that the he made today.
The embattled chief minister, in a bid to blunt the opposition campaign against him over alleged land scams and nepotism, made public his wealth just hours after promising to do so either today or tomorrow.
What is of real significance, though, is the fact that Yeddyurappa's assets have shot up by a mind-boggling 600 per cent in a span of just two years.
Sample this:
Yeddyurappa's total assets in 2010 stand at Rs 11 crore vis-a-vis Rs 1.82 crore declared in 2008.
A further break-up reveals that Yeddyurappa possesses 2.5 kilograms of gold and diamond jewellery worth Rs 50 lakhs. This is in contrast to the jewellery estimated at Rs 22 lakh that he held in 2008.
Furthermore, Yeddyurappa also has 76 kilograms of silverware worth nearly Rs 17 lakh adding to his assets.
Another area that draws attention are the bank deposits which have quadrupled to Rs 32 lakh from the Rs 8 lakh held in 2008.
The immovable property, though, has remained the same with the CM owning 27 acres of agricultural land in his home constituency, Shikaripura. So does his house Dhavalagiri located in Bangalore's posh Raj Mahal Vilas (RMV) Extension which is valued at Rs 97 lakh.
For the record, the chief minister does not own a car, having sold the two that he had earlier this year.
"I have declared my wealth. My two sons, twelve years back, have taken their share, and they are independent assessees. My daughters too have their independent set-up", said Yeddyurappa after declaring his assets.
But, the Opposition rubbished the entire exercise, calling it a sham.
"He is a clever man. He has said that his sons are independent assessees. But his children's income should also be declared. We have been saying right from the beginning that they have been misusing their father's position to amass wealth", Dr G Parameshwar, Karnataka State Congress President said.
Another of the chief minister's fiercest critic, Lok Ayukta, too expressed scepticism about the unaccounted rise in the chief minister's wealth.
The Chief Minister is already in the Opposition's line of fire for alleged nepotism and favouritism in land denotification and allotment to his close relatives, on which Governor H R Bhardwaj has sanctioned his prosecution on petitions by two lawyers.