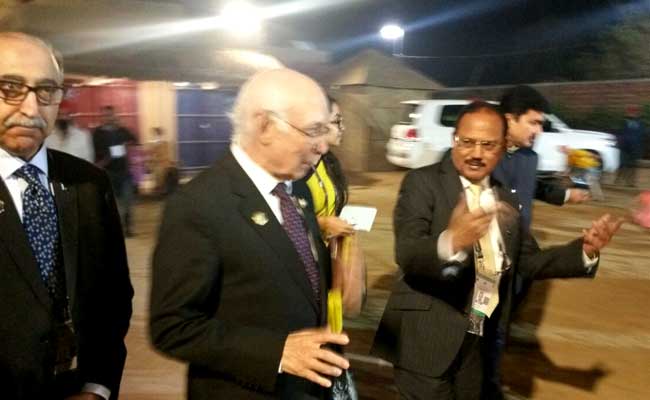 Amritsar:
Pakistani Prime Minister's Foreign Affairs Advisor Sartaj Aziz and National Security Advisor Ajit Doval had a brief interaction in Amritsar last night, amid intense strain in Indo-Pak ties in the wake of Nagrota terror strike and intensified cross-border firing in Jammu and Kashmir.
Mr Aziz and Mr Doval had a short informal chat after Foreign Ministers of five countries called on Prime Minister Narendra Modi last night in a group. The call on by the foreign ministers preceded an official dinner attended by representatives of almost all countries participating in the Heart of Asia (HoA) conference in Amritsar.
While Indian sources said Mr Aziz and Mr Doval "had a stroll for about 100 feet" at the venue of the dinner 'Sada Pind', a heritage village, Pakistani officials maintained that they had a "meeting". However, it is not known what transpired during their conversation.
When asked, External Affairs Ministry Spokesperson Vikas Swarup only said, "There was no meeting".
Mr Aziz arrived in Amritsar last night to attend HoA conference amid speculation on whether the two sides will have bilateral talks on the sidelines of the conclave to break the ice in ties.
During the dinner, Mr Aziz exchanged pleasantries with Prime Minister Narendra Modi.
Earlier, in a goodwill gesture, Mr Aziz sent a bouquet to External Affairs Minister Sushma Swaraj yesterday, extending his "sincere good wishes for her full and speedy recovery" from illness.
Ms Swaraj and Mr Aziz had held a meeting during last year's HoA meet in Islamabad during which both countries had agreed to start 'Comprehensive Bilateral Dialogue' that was to cover all outstanding issues.
The resumption of the dialogue could, however, not take place due to the Pathankot terror attack in January this year and subsequent terror strike involving Pakistan-based terrorists.
Earlier this week, Pakistan High Commissioner Abdul Basit had said Pakistan was willing for unconditional resumption of dialogue if India was ready.
India had already made it clear that it will never accept continuing cross border terrorism as the 'new normal' in bilateral ties with Pakistan while asserting that talks cannot take place in an atmosphere of "continued terror".
Tensions between the two countries escalated after the cross border terror attack on an army base in Nagrota in Jammu.