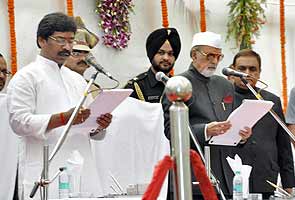 Ranchi:
Jharkhand Mukti Morcha (JMM) leader Hemant Soren has been sworn in as the new Chief Minister of Jharkhand.
The tribal leader, who is the son of JMM chief Shibu Soren, was today administered the oath of office and secrecy by Governor Syed Ahmed at the Birsa Mandap situated in the premises of Raj Bhavan.
Rajendra Prasad Singh and Annapurna Devi, Legislature Party leaders of the Congress and the Rashtriya Janata Dal (RJD) respectively, were also sworn in as ministers.
Hemant Soren, who heads the ninth ministry in less than 13 years, became the fifth tribal chief minister after Babulal Marandi (once), Arjun Munda (thrice), Shibu Soren (thrice) and Madhu Koda (once) since the state was created on November 15, 2000.
Earlier, the Governor invited Mr Soren for the swearing-in ceremony late last night after Raj Bhavan received official communication about the Presidential assent on the cabinet recommendation for revocation of central rule in the state.
The JMM Legislature Party leader had staked claim on July 9 for formation of a government in alliance with Congress, RJD, smaller parties and independent MLAs.
Mr Soren, who gave the Governor a list of 43 MLAs supporting him in the 82-member Assembly, is expected to expand his ministry after taking the floor test.
The alternative coalition comes nearly six months after the imposition of President's rule, which was to end on July 18.
The central rule was imposed on January 18 after the JMM withdrew support to the BJP-led government under Arjun Munda on January 8.
The JMM had extended support to the BJP on September 11, 2010, ending President's rule then. Central rule was imposed after the BJP had pulled out from the Shibu-Soren led alliance on May 24, 2010, as the JMM chief had voted along with the Congress-led UPA in a cut motion in Lok Sabha that year.
This is the third government in the same house, which was constituted after the results threw a fractured mandate in the November/December 2009 Assembly elections.