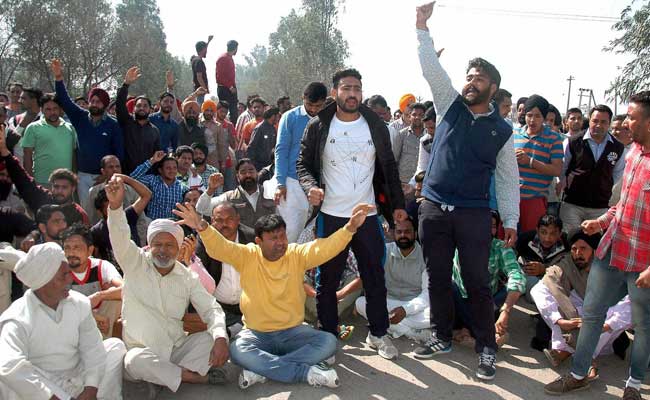 Chandigarh:
Jat community members in Haryana today threatened to oppose programmes attended by Chief Minister Manohar Lal Khattar and his ministers for not implementing quota in government jobs and education and not withdrawing cases filed in connection with the 2016 quota stir.
At a Jat Mahasabha organised in Jassia village in Rohtak district, the All-India Jat Aarakshan Sangarsh Samiti announced that it will hold dharnas from August 16 wherever Khattar or his ministers attend public programmes in the state.
"We will oppose each of their programmes until our demands are met. A resolution has been passed today in this regard," Samiti president Yashpal Malik said.
"If the prime minister holds any political rally in Haryana, we will oppose that too," Mr Malik, who is spearheading the campaign for quota for Jats, said.
He said the government has time till August 16 to meet their demands.
Mr Malik said the Jat community will organise 'Bhaichara Sammelans' with other sections of society including Dalits and farmers from June 15 in villages and blocks in the state.
The Jat leader accused the BJP-led Haryana government of "betraying" the community by not honouring the promises made to them.
The Jat Mahasabha was organised in the wake of the state government's submission in the Punjab and Haryana High Court last month that it would not withdraw cases related to the 2016 Jat agitation. The government had given permission for the withdrawal of 407 cases.
A total of 2,100 cases pertaining to arson and violence were registered in connection with the February 2016 agitation. Thirty people died and several were injured during the agitation.
In another resolution passed during the rally today, Jats will make "injustice" to the community an issue during the upcoming assembly elections in Rajasthan and Madhya Pradesh.
For the Mahasabha today, Rohtak police had tightened security. Check posts were erected across the district and the rally participants were not allowed to enter the Rohtak city.
In February this year, Jats had threatened to disrupt BJP chief Amit Shah's rally in Jind.
They were later pacified by government representatives, including chief minister Khattar, with assurance, according to Jat leaders, that the state government would withdraw all cases registered in connection with the 2016 quota agitation.
Jats have been demanding quota in jobs and educational institutions, withdrawal of all cases registered against community members and suitable compensation to those injured in the 2016 stir.