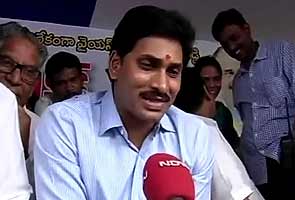 Hyderabad:
In front of around 1500 supporters at his Lotus Pound residence in Hyderabad, YSR Congress chief Jagan Mohan Reddy stepped up the anti-Telangana protests today by beginning an indefinite fast. According to sources, the 40-year-old leader's fast will continue till a huge public rally he is planning in Hyderabad on October 18. (
Track live updates
)
"The central government does not want a united Andhra Pradesh," Mr Reddy told NDTV, adding he will move the Supreme Court, challenging the cabinet's decision to carve out one of Andhra Pradesh's three regions, Telangana, as a new state. (
Watch
)
Mr Reddy is being seen to be taking the central role in leading the agitation against the Centre's decision on Telangana. His political rival, Telugu Desam Party chief Chandrababu Naidu, is also expected to begin an indefinite fast. (
Read 10 latest developments
)
"But what exactly is his stand? He should write a letter to the Centre first, saying he is for a united Andhra Pradesh," Mr Reddy said. He also did not rule out a possible alliance with the BJP if its party leaders from the state support the House resolution against Telangana in the state assembly.
Mr Reddy heads the YSR Congress, founded and named after his father and former chief minister YSR Reddy, who died in a helicopter crash in 2009. When he was not chosen to replace his father as chief minister, Mr Reddy exited the Congress. He was recently released on bail after spending 16 months in prison on corruption charges.
Like other leaders who have censured the Centre for dividing Andhra Pradesh, Mr Reddy alleged that the government's decision is motivated entirely by the approaching national elections. After the split, Telangana and Andhra Pradesh will have 21 parliamentary seats each. The Congress is likely to be rewarded heavily in Telangana for making it a state. The bifurcation is also expected to help the party to check the potential of Mr Reddy and other parties.