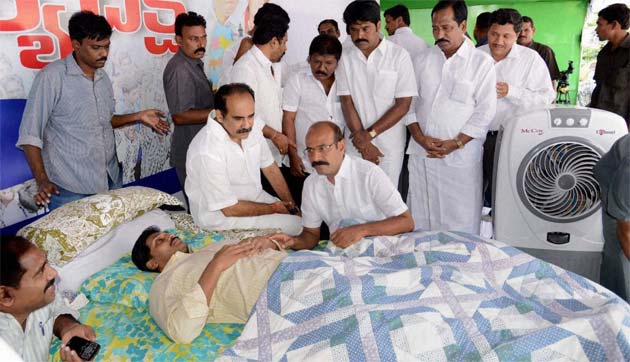 Hyderabad:
Politician Jagan Mohan Reddy, now on the fifth day of his hunger strike in Hyderabad, may be hospitalised or force-fed tonight because he is severely dehydrated, said sources in the Andhra Pradesh government.
Mr Reddy, who is fasting outside his Lotus Pond office in Hyderabad surrounded by hundreds of supporters, has refused to call off his protest. (
In pics: protests, power outages & two fasts
)
Mr Reddy, who heads the YSR Congress, is fighting the Centre's decision to divide Andhra Pradesh by carving out the region of Telangana as India's 29th state, a decision that has launched a political avalanche.
In Delhi, his mother, Vijayamma, met BJP president Rajnath Singh, triggering speculation that an alliance between the two parties is a work-in-progress. Recently, Mr Reddy, who was released last month from jail and is being investigated for corruption, praised the BJP's candidate for prime minister, Narendra Modi, as an efficient administrator. However, Mr Reddy urged the BJP leader to demonstrate his commitment to secularism. (
read
)
Since Mr Reddy took charge of the YSR Congress party in 2011, he has proven that he is an emerging force in regional politics with strong performances in local elections.
Congress leader Digvijaya Singh said that an alliance with Mr Reddy could be considered by his party after the national elections are held. But Mr Reddy has been less kind towards the party that his father belonged to. Over the weekend, he targeted its president Sonia Gandhi for the decision to split Andhra Pradesh into two because "someone wanted their son to be Prime Minister." The reference was to her son, Rahul, and to the recurring criticism that the Congress wants to create a Telangana state for dividends in the national elections, due by May.