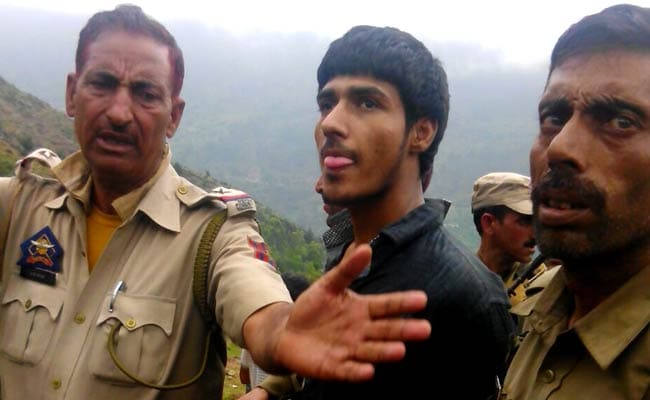 Udhampur:
"It's fun doing this," said Usman, a suspected Lashker-e-Taiba terrorist from Pakistan who was caught alive after the attack on a Border Security Force (BSF) convoy in Jammu's Udhampur today that killed two constables.
Usman, who says he belongs to Faislabad in Pakistan, claimed before the media that he entered the Jammu region 12 days ago along with a fellow terrorist identified as Momin Khan. Khan was killed in retaliatory fire by the BSF.
This is the first Pakistani terrorist to be captured alive after Ajmal Kasab, who was nabbed during the terror attack in Mumbai in 2008.
"I came to kill Hindus," said Usman, dressed in a dark blue shirt and brown trousers, with a relaxed demeanour. He also alleged that Kashmiris were being killed all the time.
"It has been 12 days since I came here. We walked all days in the jungle," he said as villagers clicked pictures with the prize catch.
"I am from Pakistan and my partner was killed in the firing but I escaped. Had I been killed, it would have been Allah's doing. There is fun in doing this," Usman said.
Initially, he said that he was in his early twenties but later claimed that he was only 16. He had been changing his statements. First he identified himself as Kasim and later as Usman.
This has been the tactics of banned Lashkar group sending youngsters to Jammu and Kashmir with the direction that in case they were caught, they should claim to be below 18 years so that they are tried as juveniles.