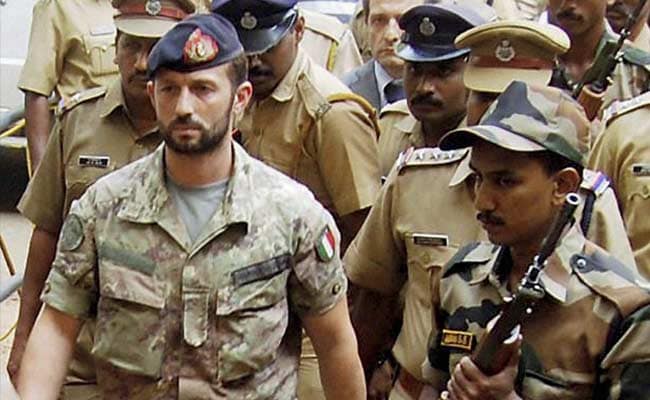 Highlights
His request to leave India backed by Centre on 'humanitarian grounds'
Pair of marines accused by India of shooting 2 Kerala fishermen in 2012
Other marine, Massimiliano Latorre, left india in 2014
New Delhi:
An Italian marine arrested for murder in India was allowed to return home by the Supreme Court today.
Salvatore Girone's request to leave India was supported by the government on "humanitarian grounds". However, Mr Girone must report every month to a designated police station and agree to obey orders of the Supreme Court issued after he leaves India.
He is one of two sailors under investigation over the killing of two Kerala fishermen in 2012. Italy has said the marines were guarding an oil tanker and mistook the fishermen for pirates.
Kerala's new chief minister, Pinarayi Vijayan of the Left has objected to Mr Girone being allowed to leave India, saying the Centre's stand is unacceptable. "An accused who committed the crime here must be tried here. The Centre has been up to foul play in the Italian marines case from the beginning," Mr Vijayan alleged today.
Mr Girone's colleague
Massimiliano Latorre left India in 2014 for medical treatment
after a stroke and was allowed by the Supreme Court recently to stay in Italy till the end of September.
A UN arbitration court hearing the case ruled earlier this month that India should release Mr Girone, who is on bail but has been detained at the Italian embassy in Delhi for more than four years. The court at The Hague said that the
marine would have to obey bail conditions set by the Supreme Court
.
The dispute over the marines had escalated into a
full-blown diplomatic crisis
for Italy and India over who has jurisdiction over the case. Italy then sought international arbitration and India agreed to abide by the UN court's findings.
Rome maintains the immunity of both the marines to prosecution since they were serving on a UN-backed anti-piracy mission and the oil tanker they were escorting was in international waters when it fired on the fishermen. India has vehemently opposed that stand.
The
Supreme Court last year suspended all legal proceedings against the two Italian marines
on the orders of the International Tribunal for the Law of the Sea (ITLOS).