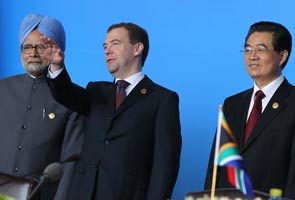 New Delhi:
Leaders of the BRICS countries at a meeting in New Delhi issued a declaration recognising Iran's right to peaceful uses of nuclear energy and support resolution of issues through dialogue.
The declaration states that "situation concerning Iran cannot be allowed to escalate into conflict, the disastrous consequences of which will be in no one's interest."
"Iran has a crucial role to play for the peaceful development and prosperity of a region of high political and economic relevance, and we look to it to play its part as a responsible member of the global community. We are concerned about the situation that is emerging around Iran's nuclear issue. We recognize Iran's right to peaceful uses of nuclear energy consistent with its international obligations, and support resolution of the issues involved through political and diplomatic means and dialogue between the parties concerned, including between the IAEA and Iran and in accordance with the provisions of the relevant UN Security Council Resolutions," the declaration said.
The meeting, which was held under the theme of "BRICS Partnership for Global Stability, Security and Prosperity", was a part of the fourth BRICS Summit that started today in the capital where leaders and representatives of Brazil, Russia India, China and South Africa would be discussing political and economic issues common to the five member nations.
On Wednesday, India, China and other BRICS countries had said that they will not sever their trade ties with oil-rich Iran, which is facing US sanctions against its nuclear program.
India's Commerce Minister, Anand Sharma, said Iran is an important source of energy.
Mr Sharma's Chinese counterpart, Chen Deming said his country is "not obliged to follow any domestic laws and rules of any particular country".
India imports 12 per cent of its oil from Iran while China depends on the Iranian crude to the extent of 20 per cent of its requirements.
The US and key European nations have slapped sanctions on Iran's economy over Tehran's nuclear program.