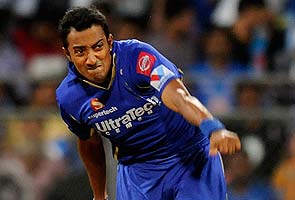 New Delhi:
Cricketer Ankeet Chavan has been granted conditional bail till June 6 for his wedding by a Delhi Court.
Chavan had sought bail on the ground that his marriage is fixed for June 2 and if the wedding does not take place it will cause harm to his reputation and the his fiancee's.
In his plea, Chavan said there is no direct evidence against him and he has been falsely implicated in the case. It also said that invitation cards have already been distributed and all preparations for the marriage done.
Indian pacer S Sreesanth and Chavan along with Rajasthan teammate Ajit Chandila are in the custody of the Delhi Police after they were arrested from Mumbai on May 16 on charges of spot-fixing in the Indian Premier League 2013.