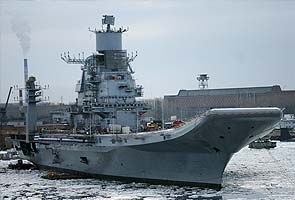 New Delhi:
The INS Vikramaditya, India's second aircraft carrier, is out at sea again. By this time tomorrow, the 45,550-ton vessel built at the Sevmash shipyard in Severodvinsk, north Russia, will be sailing through the Barents Sea.
Over the next two months at least, the ship will be put through stringent testing in the Barents Sea and the White sea. "If all goes well, the Indian tri-colour will be flying atop the INS Vikramaditya this November, after which it will start its journey to India," a senior Navy officer told NDTV.
The INS Vikramaditya, formerly known as Admiral Gorskhov, was to have joined the Indian Navy last year. However, the insulation tiles of its boilers cracked during full power trials, which entail pushing the ship to maximum speed at sea and then testing all systems for accuracy and endurance.
The fire-brick lining - made of special ceramic to help maintain optimum temperature in the boilers - on the inside of the insulation had come off. A senior official told NDTV that the entire insulation was ripped off and a new one has been installed.
A 500-member Indian Navy team, which was training on-board the Admiral Gorshkov then had spotted the problem with the warship's boilers, especially when the vessel hit top speed of about 30 knots (around 55 kmph).
The repairs delayed delivery of the ship by a year. "Tests carried out in the dry docks have also been successful," the official said.
India and Russia had signed a $2.3-billion (Rs 14,000 crore approximately at present valuation) contract for refitting the aircraft carrier, which served in the erstwhile Soviet Navy. The first contract was signed in 2004, when no other country was ready to sell such technology to India.
During the sea trails now, all systems of the ship, including its sensor and weapon and propulsion system will be tested and full power trails will be conducted again. A contingent of Indian Navy officials are on board to oversee and inspect the trials.