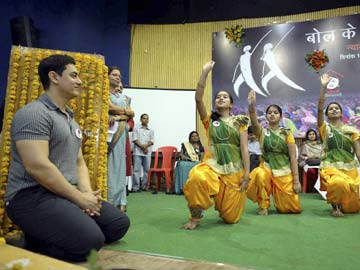 Bhopal:
In a first in the country, Madhya Pradesh's capital Bhopal now has a one stop crisis centre 'Gauravi' for women who are victims of violence.
At the centre, set up in Jai Prakash Hospital with the support of NGO ActionAid, victims can seek help by directly walking in or by calling a toll free number. Victims of rape, dowry harassment and domestic violence will get medical aid and also help in filing FIRs, legal advice and psychological counselling. As per National Crime Record Bureau's 2012 report, the state witnesses the highest number of rapes.
The centre was inaugurated on Monday by Union Health and Family welfare Minister Dr Harsh Vardhan, actor Aamir Khan and Madhya Pradesh Chief Minister Shivraj Singh Chouhan. Following the inauguration, Aamir, who has raised the issue of crime against women on his TV show Satyamev Jayate, visited the centre and spent about 20 minutes there interacting with the staff.
"How we look at women and this problem of crime against women - that needs to change and it cannot happen overnight. It will take a few generations to see the change in society," Aamir told reporters.
The state government is thinking of setting up such centres in the remaining 50 districts of the state. The chief minister is confident that this centre will help women, but accepts that to prevent crime against women a change in attitude is also needed.
"People say the situation is bad but it is the people who have to rise and improve the situation," Mr Chouhan said.
Activists doubt whether such a centre will prove to be effective.
"In this new centre will there be legal experts, police, health officials. Who will ensure its smooth functioning and also that the officials are in the office during working hours? If this is not ensured then this centre, like other centres, will also be ineffective," activist Roli Shivhare told NDTV.