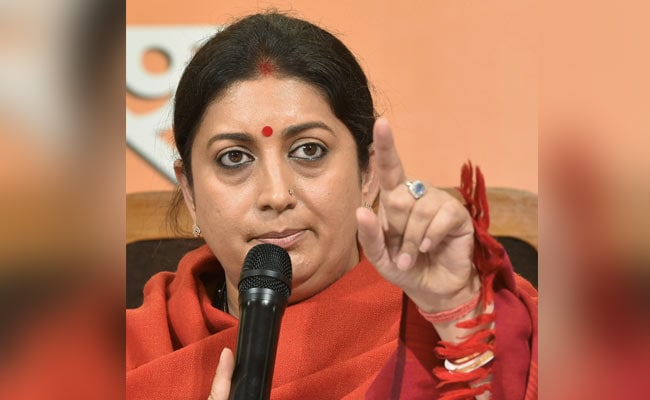 New Delhi:
Indian food is as "spicy" as its journalism, Information and Broadcasting minister Smriti Irani told a group of foreign students of development journalism at the Indian Institute of Mass Communication or IIMC in New Delhi today.
Ms Irani's remarks came after a foreign student, while sharing experiences of her stay in India during the four-month course at the institute, said Indian food is delicious but many of her friends struggled with the amount of spices it offered.
"Our food is as spicy as a journalist here in India. So what you got is not only a taste of the kind of food we serve, but also the real adventure and spice we call Indian journalism and communication," she told the gathering while addressing the 69th valedictory session of 'Development Journalism Course' today at IIMC.
Ms Irani's comments assume significance in the backdrop of her ministry recently withdrawing its guidelines to regulate fake news following a directive from the Prime Minister's Office after wide-spread criticism by media and opposition parties.
Days after the withdrawal of the contentious guidelines, the Information and Broadcasting Ministry had also constituted a committee to frame rules to regulate news portals and media websites.
Ms Irani also announced a scholarship of Rs 25,000 in commemoration of BJP ideologue Deendayal Upadhyay for people of Indian origin citing his exemplary work in development journalism.
She also pitched for teaching domestic students about India and its culture.
Stating that there were many who believed that journalism and development would be "actually oxymoron and were at two ends of the spectrum", she lauded the IIMC for "bringing these two ends of spectrums on one platform" by offering development journalism course.
The minister said journalism is "not about fame but about passion to tell the news story", as she advocated for "consistency in sustaining credibility" of the stories.
Emphasising on "taking communication to the grassroots", Ms Irani applauded IIMC for helping foreign students "understand India".
"But I think you (IIMC) should not limit that understanding of our grassroots, culture, country and laws only to the foreign students. This is something that students who are domestic may also learn from you," she added.
Noting that an average Indian spends 200 minutes a day on mobile apps and that 65 per cent of video consumption in India comes from rural areas, Ms Irani said the media and entertainment industry should think about what new content could be offered to the consumers.
She said there was a time when an editor or a journalist had the last word on any news but with the digital technological explosion, the consumers were also "becoming a part of changing the narratives" and ask about the source from whom the journalists get the information.
She also said that one of the challenges that India faces is that news is "all about analysis and a lot of about perspective".