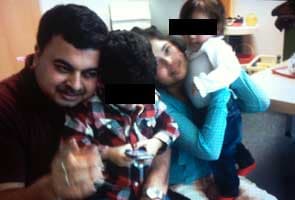 New Delhi:
India has told Norway officials that two Indian children who have been put in foster care there against their parents' wishes are "neither orphans nor Stateless persons, and enjoy the protection of the Indian State." The strong stand follows attempts by Norwegian officials to keep the children there after their visas expire next month. Here are 10 developments in this complex story:
1) Sagarika and Anurup Bhattacharya have been accused of negligence by child welfare officials in Norway; their children - one-year-old Aishwarya and three-year-old Abhigyan - were taken from them last May and placed in foster care.
2) Anurup, a geologist, was posted to a town named Stavanger; the couple's visas expire in March and they want their children to be returned to them before it becomes tough for the parents to return to Norway
3) The Bhattacharyas have been informed that child welfare authorities have asked immigration officials to grant temporary resident permits to the children even without their parents' consent. Norwegian law would allow the children to stay on in Norway even if parents don't agree.
4) The Indian government has declared this unacceptable. "The request for an extension of residence permits on behalf of children should emanate from the parents or the Indian State," Norway has been told. Indian officials have also urged Norway once again to "expedite the process of return of the children to India in view of the humanitarian dimension."
5) The children are still in a foster home. They met their parents after three months on Friday for an hour.
6) The children were taken away from their parents in May last year. Teachers at Abhigyan's school found his behaviour in school disturbing; child welfare representatives then visited the family.
7) They reported to a Norwegian court that Sagarika seemed "clinically depressed", though she says doctors have certified she was not depressed. They also accused her of force-feeding the children.
8) In November last year, a Norwegian court ordered that Abhigyan and Aishwarya would live in a foster home till they turned 18. The court noted that son Abhigyan was diagnosed with attachment disorder; the boy, the court said, reacted if the mother raised her hand, as though she intended to hit him and concluded that he had either been hit before or had seen physical violence between the parents.
9) The Bhattacharyas have, through their months of ordeal, said that "cultural misunderstandings" caused this tale of separation. The Norwegian authorities have categorically denied that cultural differences have played a role in their decision to take the children away. Yet, the court noted as part of its case against the parents that they had an arranged marriage; commonplace in India, not largely understood in the West.
10) As a compromise, the Bhattacharyas have suggested that the children's custody be granted to Anurup's brother, Arunabhas Bhattacharya, a dentist based in West Bengal. He has travelled to Norway and while he is being evaluated by child welfare officials there, he is allowed supervised visits with the children.
Before the Indian government intervened, Norway had refused to consider the option of granting custody of the children to their grandparents or other family members.