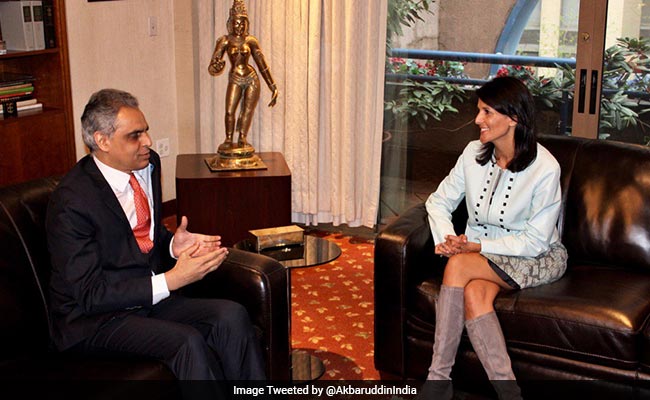 New York:
Indian Ambassador to the UN, Syed Akbaruddin met his US counterpart Nikki Haley at the Permanent Mission of India to the UN in New York yesterday and discussed ways to strengthen Indo-US partnership at the world body.
"They discussed peacekeeping reform and India's economic and anti-corruption reforms that have helped businesses and spurred growth," according to a statement issued by the US Mission to the UN.
The two ambassadors also discussed the "close ties between the two countries and opportunities to further the partnership between the US and India at the United Nations."
"We shared perspectives on how to work together at UN in line with growing India-US ties," Mr Akbaruddin told news agency Press Trust of India.
Indian-American Ms Haley, who was the Governor of South Carolina before being appointed by President Donald Trump as Washington's envoy to the UN, has quickly garnered a reputation at the world body for being tough-talking and blunt.
Earlier this month, Ms Haley had said that the US would try and "find its place" in efforts to de-escalate Indo-Pak tensions and that Trump could play a role in such endeavours.
India had swiftly rejected any US role in resolving Indo-Pak issues, saying the government's position for "bilateral redressal of all India-Pakistan issues in an environment free of terror and violence hasn't changed".