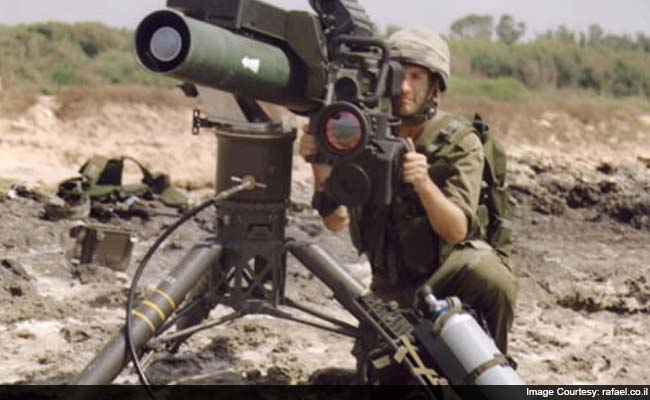 New Delhi:
India has opted to buy Israel's Spike anti-tank guided missile, rejecting a rival US offer of Javelin missiles that Washington had lobbied hard to win.
India will buy at least 8,000 Spike missiles and more than 300 launchers in a deal worth Rs 3200 crores ($525 million), it was decided at a meeting of the Defence Acquisition Council over the weekend. Twelve Dornier aircraft will also be bought for the navy and 362 infantry combat vehicles; the council also agreed to go ahead with locally building six submarines, in collaboration with a foreign partner, in a project worth $8.2 billion or Rs 52,000 crores.
Prime Minister Narendra Modi's five-month-old government wants to clear a backlog of defence orders and boost India's firepower, amid recent border tensions with China and heavy exchanges of fire with Pakistan across the Kashmir border.
"National security is the paramount concern of the government," an unnamed source told Reuters, quoting Defence Minister Arun Jaitley, who also holds the finance portfolio, as telling the procurement panel.
Spike is a man-portable 'fire and forget' anti-tank missile that locks on to targets before shooting. It is produced by Israel's Rafael Advanced Defence Systems, which declined to comment.
It beat out the rival US Javelin weapons system, built by Lockheed Martin Corp and Raytheon Co, that Defense Secretary Chuck Hagel had pitched during PM Modi's visit to Washington at the end of September.
US Javelin weapons system didn't compete initially. At much later date when field trials, technology transfer and cost had been worked with Israel, US offered to co-develop and co-produce the missiles.
Sources told NDTV that South Block decided against the US offer for three reasons: One, the extent of Technology Transfer to the Indian counterpart Bharat Dynamic wasn't clear; two, the cost of the Israeli missiles was cheaper than the US missile and finally canceling the Israeli deal at the last moment would have sent wrong signals to the international community.
Analysts estimate that India, the world's largest arms buyer, will invest as much as $250 billion in upgrading its Soviet-era military hardware and close the gap on strategic rival China, which spends three times as much a year on defence.
The government has raised the foreign investment cap on India's defence industries to speed up the military's modernisation.