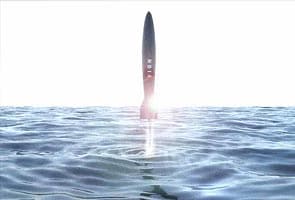 Bay of Bengal:
After a smooth countdown at 1.40 pm on Sunday, India's missile, named BO5, emerged effortlessly breaking the balmy waters of the Bay of Bengal. The missile was launched from an approximate depth of about 50 metres, simulating exactly the conditions as would prevail during an operational launch from India's indigenously made nuclear-powered submarine INS Arihant. The missile whose name has been variously given as Sagarika or at times K-15 or even Dhanush has finally been christened as BO5 and is a medium-range ballistic missile.
After emerging from the water, the missile followed a copy book track of its trajectory and hit its target about six minutes after launch in a very precise manner. The trajectory was tracked using several cameras and radars specially deputed for this launch.
This is the fourteenth consecutively successful launch of this potent weapons system which has till now always been done in complete secrecy. This was the last developmental launch and now the weapons system is ready to be integrated with the Indian submarines, says AK Chakrabarty, the man who designed and perfected this naval missile system and is also the director of the Defence Research and Development Laboratory, Hyderabad. He spoke exclusively to NDTV on board the ship which controls the missile launch. This sophisticated technology has been mastered only by the USA, Russia, France and China. India has now joined this select club of five, and has now completed what is called the nuclear triad, which essentially gives India the capability to launch at will its nuclear weapons from air, land and sea.
The indigenously made missile has been perfected after more than 15 years of development by the Defence Research and Development Organisation (DRDO). Mr Chakrabarty, who had tears of joy in his eyes, described the mission as "perfect and could not have been any better." (
Read: 'Missile man' cried after successful launch from under sea
)
A young team of about 200 DRDO scientists and personnel from the Navy and a flotilla of ships took part in today's mission. The NDTV team of Pallava Bagla and Alphonse Raj were the only journalists allowed to witness the launch live from the middle of the Bay of Bengal. (
Read: NDTV witnesses history being made at missile launch
)