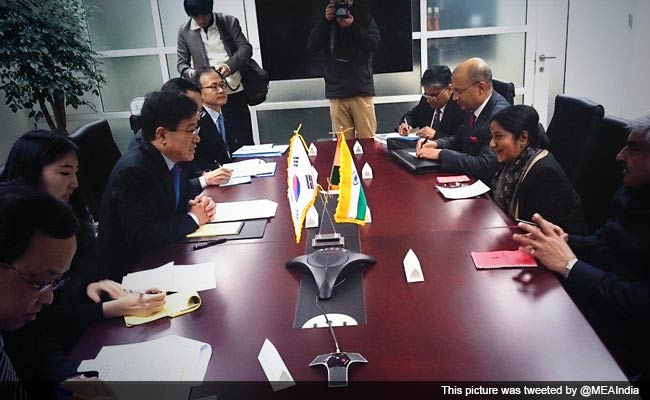 Seoul:
In boost to their strategic ties, India and South Korea today decided to enhance cooperation in sectors like shipbuilding, electronics, defence production, infrastructure and energy besides outlining mutual interest in areas of nuclear energy and cyber security.
In the eighth Joint Commission Meeting, External Affairs Minister Sushma Swaraj and her South Korean counterpart Yun Byung-se deliberated on all aspects of bilateral ties with a view to "chart out a road map" to further deepen engagement.
"They agreed that development of cooperation in the field of defence equipment and technology, as well as, sectors like shipbuilding, electronics, IT, energy and infrastructure held considerable possibilities. They reiterated mutual interest in deepening cooperation in the areas of civil nuclear energy and cyber security," the Ministry of External Affairs said.
In her address, Ms Swaraj called South Korea an important partner for India's economic growth and invited South Korean companies to make "bold investments" and benefit from the 'Make in India' initiative of the government.
She said South Korea and South Korean companies occupy a strategic place in India's 'Act East' initiative and that there was huge scope for greater investment in the country, particularly in the manufacturing sector.
"We invite Korean companies to build on their success in India and make bold investments to benefit from my government's focus on 'Make in India' which is aimed at providing necessary policy and other incentives to encourage manufacturing in India," she said.
Mr Yun welcomed the initiatives taken by India and agreed to encourage the South Korean industry to engage with India even "more closely".
In the meeting, there was agreement on the considerable potential for further expanding bilateral economic and investment cooperation.
The South Korean side reiterated a cordial invitation for an early official visit by Prime Minister Narendra Modi to the country.
Ms Swaraj welcomed the invitation, adding that both sides will work closely to ensure a productive and successful visit of Modi at a mutually convenient early date.
The two ministers exchanged views on global and regional developments and agreed to step-up exchanges between officials and academics of the two sides.
Ms Swaraj also called on South Korean President Park Geun-hye and held meetings with the Minister of Trade, Industry and Energy and the National Security Advisor.
In her address, Miss Swaraj sought steps to boost trade ties to realise the target of $40 billion bilateral annual trade by next year and said South Korean companies like Hyundai, Samsung and LG have become household names in India.
"My government attaches importance to relations with Republic of Korea. We see you as an important partner for our economic growth. Korea and Korean companies occupy a strategic place in India's 'Act East' initiative," she said.
Currently 300 South Korean companies have invested approximately $3 billion and have employed nearly 40,000 people in India.
The current bilateral annual trade between the two countries is about $16 billion. Indian companies have invested around $2 billion in South Korea and some of the leading names who acquired South Korean companies are Tatas, Mahindra and Aditya Birla Group.
"We would like to see a new form of connectivity between our two countries through cross-border production networks," the External Affairs Minister said.
"We need to work together to realise the fuller potential of bilateral trade. We had set a target of $40 billion by 2015. To achieve this target, our companies need to take full advantage of our economic complementarities and leverage the Comprehensive Economic Partnership Agreement," she said.
India-South Korea Joint Commission for bilateral cooperation was established in February 1996, which is chaired by the External Affairs Minister and the Minister of Foreign Affairs from the South Korean side.