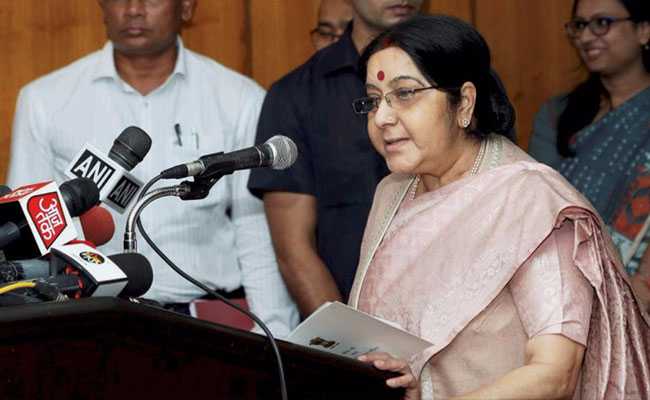 Highlights
US had announced reimposing the sanctions against Iran, Venezuela
Iran is India's third largest oil supplier
Sushma Swaraj's comments came before her meet with Iran foreign minister
New Delhi:
Responding to a question on whether the sanctions imposed by the United States on Iran and Venezuela will affect India's oil imports from the two countries, External Affairs Minister Sushma Swaraj on Monday said that India only recognises sanctions imposed by United Nations.
"We only recognise UN sanctions. We do not recognise any country-specific sanctions," Ms Swaraj said on Monday in a press-conference.
Ms Swaraj
added that the country doesn't make its foreign policy under pressure from any other country. She said, "We don't make our foreign policy under pressure from other countries".
The United States had pulled out from the 2015 Iran nuclear deal in which the country had agreed to stop its sensitive nuclear activities in return for the lifting of crippling economic sanctions.
The US President Donald Trump announced his decision, reimposing the sanctions against Iran, which had been lifted after the deal with former President Barack Obama.
The US had also announced more sanctions against Venezuela, following re-election of President Nicolas Maduro.
Iran is India's third largest oil supplier. Venezuela is also one of the major suppliers of oil to India.
Ms Swaraj also ruled out using cryptocurrency in oil trade with Venezuela, saying the Reserve Bank of India had banned it.
Her comments came hours before a meeting with Iranian Foreign Minister Mohammad Javad Zarif who is here to seek India's support to salvage the nuclear deal.
There were apprehensions about possible impact of the US decision on India's oil import. However, officials said the US decision to reinstate financial sanctions on Iran would not impact India's oil imports as long as European countries did not follow suit.
China, Russia and several European nations have been trying to save the deal.
With inputs from PTI