New Delhi:
India and Iran today signed a lease for the Shahid Beheshti Port at Chabahar between Iran's Port and Maritime Organisation and India Ports Global Limited. Chabahar Port lies just 90 km from the China-sponsored Gwadar Port in Pakistan. The Chabahar project in south-eastern Iran is significant as it gives a transit route between India, Iran and Afghanistan bypassing Pakistan.
The agreement means Iran is leasing a part of the area of the multipurpose and container terminal for 18 months to take over operations of existing port facilities in the first phase of the port development project.
India has committed $85 million for the development of the Shahid Beheshti Port.
The first phase of the port was inaugurated by President Hassan Rouhani in December last year, a little over a month after the first consignment of wheat from India to Afghanistan was sent via this facility.
India has routed a consignment of 1.1 million tonnes of wheat to Afghanistan through Chabahar Port.
During Prime Minister Narendra Modi's visit to Tehran in 2016, a trilateral agreement on transit and transport was signed between India, Iran and Afghanistan.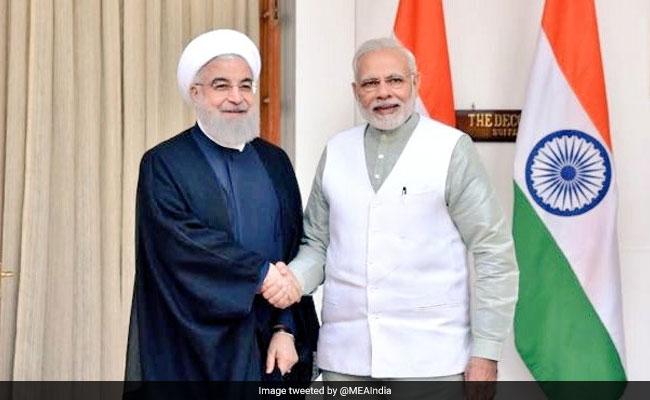 After holding talks with Mr Rouhani in New Delhi today, PM Modi in a joint address said, "We want to increase connectivity and trade; we want to strengthen our strong cultural ties.
Landlocked Afghanistan has got a golden gateway in Chabahar... Congratulate Iran for it."
Mr Rouhani said India and Iran "have a good understanding on Chabahar... and the two sides will see more cooperation on energy, petrol and gas."
India and Iran today signed nine agreements, including on easing visa rules and cooperation on medical sector, apart from the maritime agreement on Chabahar Port development.
An agreement on avoidance of double taxation and on prevention of fiscal evasion linked to income tax was also signed. It seeks to avoid burden of double taxation between the two countries in order to promote flow of investment and services.
The Iranian President's first stop of his three-day visit to India was Hyderabad where he visited the Salar Jung Museum, Golconda Fort and Qutb Shahi Tomb. This was his second visit to Hyderabad and the first after becoming Iran's President in 2013. Mr Rouhani, who is a Shia, visited the Sunni mosque Mecca Masjid and called for unity among Muslims. He joined people in offering prayers at the 17th century mosque.