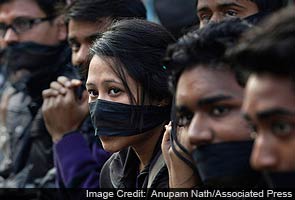 New Delhi:
India often seems to careen from crisis to crisis, with protests regularly spilling onto the streets over the latest outrage or scandal, a nation seemingly always on the boil. But when things settle, as they inevitably do, little seems to change. Public anger usually cools to a simmer.
Now, though, the heat has turned up again, as the death early on Saturday of a young woman savagely assaulted and raped here in the national capital has mushroomed into a new and volatile moment of crisis that has touched a deep chord of discontent. Protests that began more than a week ago as anguished cries against sexual violence in Indian society have broadened into angry condemnations of a government whose response has seemed tone deaf and, at times, incompetent.
On Saturday, hours after the rape victim died at a hospital in Singapore, several thousand people gathered at Jantar Mantar, the designated protest spot in the centre of the capital, to express their anguish and rage. The latest demonstrations followed a week that saw the authorities clash with protesters and cordon off the political centre of the city with a huge display of force.
"What the government is doing is politically stupid," said Jayati Ghosh, a professor of economics at Jawaharlal Nehru University, speaking during a protest last week. "This will cause public disaffection, because people are seeing the government as inflexible and intolerant. If the government listened, they would find that people are trying to find solutions.
"The problem," she added, "is the government is not even listening."
For much of last week, as some protesters complained that the Indian state was more interested in protecting itself than its citizens, especially women, the symbolism has been stark: the authorities invoked emergency policing laws, closing off the governmental centre of the capital, blockading roads and even shutting down subway stations - a democratic government temporarily encircling itself with a moat. At one point, fire hoses were turned on college students.
Those restrictions were eased by December 25, even as New Delhi remained consumed by an anxious vigil as the young woman remained in critical condition. Doctors gave daily, televised updates on her condition until Wednesday evening, when the authorities unexpectedly flew her by special airplane to a hospital in Singapore, where her condition deteriorated before she died of organ failure. It is the graphic horror of the attack that set off the outrage: the victim was a 23-year-old woman, her identity still withheld, whose evening at the movies with a male friend on December 16 turned nightmarish. The police say a group of drunken men waved the pair onto a private bus, promising a ride home, but instead assaulted them with an iron rod and raped the woman as the bus moved through the city.
College students, mostly women, led the early protests. Sexual violence has become a national scandal in India, amid regular reports of gang rapes and other assaults against infants, teenagers and other women. But women also spoke of a more pervasive form of harassment: of being groped in public; of fearing to ride buses or subways alone; of victims, not attackers, being shamed and blamed.
"Rape happens everywhere," Urvashi Butalia, a feminist writer, wrote in The Hindu, a national English-language newspaper. "It happens inside homes, in families, in neighbourhood's, in police stations, in towns and cities, in villages, and its incidence increases, as is happening in India, as society goes through change, as women's roles begin to change, as economies slow down and the slice of the pie becomes smaller."
Analysts say that India's coalition national government, led by the Indian National Congress Party, had an early opportunity to defuse the anger by embracing the protests and providing comfort and reassurance. Yet that moment, analysts agree, was missed, as top leaders misjudged how quickly public anger would escalate, especially among the young. It was a generational divide between young urbanites, often communicating by social media, and a government unable to find a way to win public trust.
Reassurances offered by Sonia Gandhi, president of the Congress Party, came off as unconvincing. Her son Rahul Gandhi, the party's heir apparent, has barely been visible.
Prime Minister Manmohan Singh first attempted to calm the situation last Monday with a taped national address, but his speech was overshadowed by a stray remark. At the end of the taping, Singh, speaking in Hindi, asked "Theek hai?" meaning "Is it all right?"
It was most likely an innocuous comment to the cameraman that ordinarily would have been edited out. But it quickly went viral and became a bitter rallying cry on social media. That was followed by a sexist comment about female protesters by a member of Parliament, who also happened to be the son of India's president.
When the protests grew angrier and more violent, especially as men joined the ranks, many reportedly allied with rival political parties, the police responded with fire hoses, tear gas and nightsticks. Then the authorities invoked the emergency policing law, known as Section 144, to lock down the area around the presidential palace, Parliament and the main government offices.
But if the government's heavy-handed response was met with broad criticism, the hard line taken by some protesters also raised concerns. Frustrated, many protesters called for the death penalty against convicted rapists, alarming many people in a country where executions are extremely rare.
Then a police constable died of a heart attack during the protests. The authorities say he had a seizure after being attacked by protesters - a claim denied by some witnesses.
"Collectively, we seem to have unthinkingly bought into a narrative of empowered indignation in which 'anger' against 'authority' is deemed to be just and justifiable and any means to vent that 'anger' is rationalized as socially acceptable and politically correct," Harish Khare, a former spokesman for the prime minister, wrote in The Hindu.
The constable's death seemed to shift the tenor of the public mood, and Singh made another speech calling for calm and promising action. "The emergence of women in public spaces, which is an absolutely essential part of social emancipation, is accompanied by growing threats to their safety and security," he said. "We must reflect on this problem, which occurs in all states and regions of our country, and which requires greater attention."
On Saturday morning, many of the people gathered at Jantar Mantar, shouting "We want justice," were determined that the protests should remain peaceful.
Neha Sharma, 24, a student at Delhi University, said capital punishment was not the solution but that reforms were needed in the criminal justice system. "We need to fix the system," she said. "Neither the government nor the police are taking any steps."
Protesters have repeatedly called for reforms, citing the frequent insensitivity of the police and the courts toward women and the skewed priorities of a government that devotes thousands of officers to protecting politicians and other so-called VVIPs, even as departments too often fail to protect ordinary citizens. "I'm now beginning to feel that my government is not capable of understanding the situation, let alone solving it," said Abhijit Sarkar, 28, a social activist who participated in a candlelight vigil last week. "During the candlelight vigil, policemen were actually laughing at us."
(
Niharika Mandhana and Sruthi Gottipati contributed reporting.
)
© 2012, The New York Times News Service