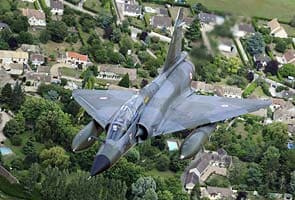 New Delhi:
India today cleared a €950 million deal to procure 500 air-to-air missiles from a French firm for IAF's Mirage-2000 aircraft fleet.
A Cabinet Committee on Security (CCS) meeting chaired by Prime Minister Manmohan Singh today cleared the deal to procure 490 MICA missiles manufactured by French firm MBDA, Defence Ministry sources said.
The missiles would be deployed on the 51 Mirage-2000 aircraft, which are already undergoing upgrades at French facilities under a €1.47 billion deal signed earlier this year.
Under the deal, MBDA will invest €315 million back in the Indian defence sector. The Defence Procurement Procedure (DPP) mandates that foreign vendors bagging deals worth over Rs 300 crore have to invest back at least 30% of the contract's worth into Indian defence, civil aerospace and homeland security sector.
India signed a deal with French companies Thales and Dassault Aviation, which will take ten years to carry out mid-life upgrade of IAF's 51 Mirage-2000 fighters.
Two aircraft have already been flown to France for upgrades and the remaining would be modernised in India at Hindustan Aeronautics Limited (HAL) facilities in Bangalore.
"The cost of the contract for upgrade of the Mirage 2000 with Thales is €1,470 million while the cost of the contract with HAL is Rs 2,020 crore [around €340 million]. The upgrade of the aircraft is expected to be completed by mid 2021," Defence Minister AK Antony recently informed Parliament.