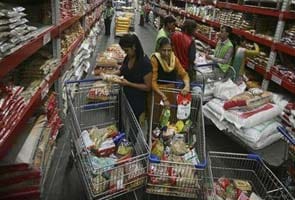 New Delhi:
Foreign supermarkets entering India must invest in new supply chain infrastructure, such as warehouses and cold-storages, rather than buying existing assets, the government said today in a clarification of rules announced last year.
The government allowed global supermarket operators to enter India in September, and stipulated at the time that at least 50 percent of the investment made by the foreign company must be in supply chain infrastructure.
However, it was not clear at that stage whether the investment would have to be in new facilities or whether existing assets could be purchased.
The government's clarification could encourage global retailers such as Wal-Mart Stores, Carrefour and Tesco to set up retail stores in India.
So far, the country has not received any applications from foreign supermarket groups to open retail outlets.
The government said investments in the supply chain and logistics networks could be made in any Indian state, irrespective of whether the state supports the entry of foreign retailers.
Several Indian states oppose moves to allow foreign supermarkets to open retail outlets, and the government announced the policy amid heavy political opposition.
The government also said global retailers have to source 30 percent of their processed goods, not including fresh produce, from small industries and will only be allowed to sell these goods through retail stores, and not wholesale outlets.
© Thomson Reuters 2013