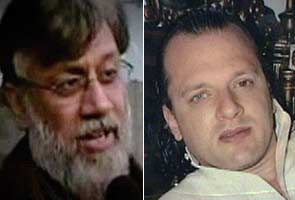 New Delhi:
India has asked the US to "temporarily" hand over LeT terrorist David Headley for a year and extradite his accomplice Tahawwur Hussain Rana to get more information about the conspiracy hatched to carry out Mumbai terror attacks.
In its fresh efforts to get access to the Pakistani American terrorist, India has conveyed to the American interlocutors to "temporarily" hand over Headley for a year after the US expressed its inability to extradite him.
The request was made during the Indo-US Homeland Security Dialogue held in Washington from May 20 to 22.
"The US interlocutors assured us to actively consider the request," a top Indian official, who participated in the meeting, told PTI.
Washington also assured New Delhi to positively consider the request to extradite Headley's Pakistani-Canadian friend Rana, who helped Headley to recce the 26/11 targets for Pakistan-based terror outfit Lashkar-e-Taiba.
Following India's consistent persuasion, the US has indicated to interlocutors that India could be given access to Headley for the second time to get more information about the conspiracy hatched to carry out the 2008 attack.
So far, the US has not given any opportunity to question Rana, who was sentenced by an American court for his involvement in a terror plot in Denmark.
Indian investigators believe that if they could quiz Rana, a lot of hidden information could come to light as he was a close associate of Headley.
51-year-old Headley had pleaded guilty to 12 terrorism charges, including his involvement in the November 2008 attacks that claimed 166 lives. He had, however, entered into a plea bargain with US authorities.
A court in the US had sentenced 52-year-old Rana to 14 years in jail followed by five years of supervised release.
Rana was convicted for providing material support to LeT and for backing a "dastardly" plot to attack a Danish newspaper but not convicted for the Mumbai terror attack despite being a close associate of Headley.