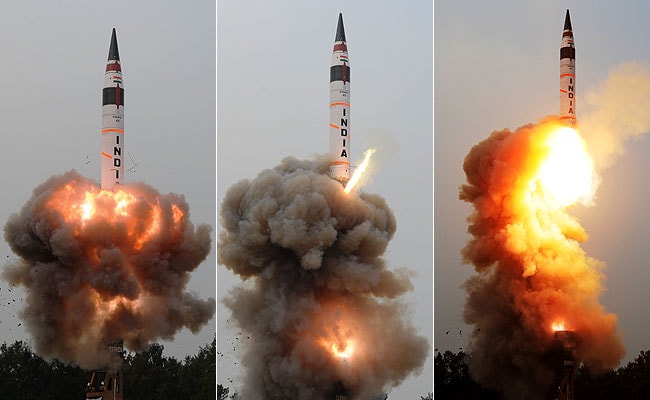 Beijing:
India has "broken" UN limits on nuclear arms and long-range missiles and Pakistan should also be accorded the same "privilege", state-run Chinese media said today, as it criticised New Delhi for carrying out Agni-IV and Agni-V missile tests whose range covers the Chinese mainland.
"India has broken the UN's limits on its development of nuclear weapons and long-range ballistic missile," the ruling Communist Party-run publication Global Times accused in its editorial.
"The US and some Western countries have also bent the rules on its nuclear plans. New Delhi is no longer satisfied with its nuclear capability and is seeking inter-continental ballistic missiles that can target anywhere in the world and then it can land on an equal footing with the UN Security Council's five permanent members," it said.
"India is 'promising' in vying for permanent membership on the UN Security Council as it is the sole candidate who has both nuclear capability and economic potential," it said.
"China should realise that Beijing wouldn't hold back India's development of long-range ballistic missiles," it said apparently highlighting China's limitations in restricting India developing a nuclear and missile deterrence against Chinese military power.
Agni-5, an over-5,000-km range inter-continental ballistic missile or ICBM, is widely regarded as a strategic missile as it can reach all parts of the Chinese mainland. The editorial said that "Chinese don't feel India's development has posed any big threat to it".
The daily, known for its sabre-rattling rhetoric, said "India wouldn't be considered as China's main rival in the long run" due to vast disparity in power between the two countries. But at the same time it suggested that the "best choice for Beijing and New Delhi is to build rapport".
However, accusing India of violating limits imposed by United Nations on nuclear and long-range missile development it said, "if the Western countries accept India as a nuclear country and are indifferent to the nuclear race between India and Pakistan, China will not stand out and stick rigidly to those nuclear rules as necessary", it said.
"At this time, Pakistan should have those privileges in nuclear development that India has," it said, indicating that China which shared an all-weather ties with Islamabad will back it if it develops long-range missiles.
"In general, it is not difficult for India to produce inter-continental ballistic missiles which can cover the whole world. If the UN Security Council has no objection over this, let it be. The range of Pakistan's nuclear missiles will also see an increase. If the world can adapt to these, China should too," it said.
The references to violation of UN rules by the daily were significant as the Chinese Foreign Ministry spokesperson Hua Chunying while reacting to India's Agni-5 missile test said on December 27 that "on whether India can develop this ballistic missile that can carry nuclear weapons, I think relevant resolutions of the UNSC have clear rules".
Ms Hua, however, did not elaborate. The editorial in Global Times also did not elaborate or point out details of the UN violations allegedly made by India.
"We have always believed that safeguarding strategic balance and stability in South Asia is conducive for the peace and prosperity of countries in the region," she said and took exception that the Agni-5 which has a range of over 5000 km was meant to target China.
However, Ms Hua appreciated Ministry of External Affairs spokesman Vikas Swarup's statement on December 28 stating that "India's strategic capabilities are not targeted against any particular country. India abides by all the applicable international obligations and hopes that all other do the same".
"We have taken note of and express appreciation for the statement made by Indian Foreign Ministry's spokesperson that India's strategic capabilities are not targeted against any particular country," she said.
"China believes that preserving the strategic balance and stability in South Asia is beneficial to peace and prosperity of countries within the region. We hope to work alongside regional countries including India, to take concrete actions for enduring peace, prosperity and stability of the region," she said.
Asked for his reaction to the Agni-5 test, Hu Shisheng, Director of the China Institutes of Contemporary International Relations told news agency PTI that the test is part of the progress of India's military modernisation.
"Being a major power, this is the necessary (for India). However, there is no need to each time while testing this kind of non-conventional weapons to mention whether it has the capacity to hit China or not," he said.
"That really makes the news release very negative," he said as it made it appear that India's military modernisation is for targeting China."
"Any country has its own logic to develop advanced weapons, but better not to mentions any other country (by name)," he said.
In its editorial, the Global Times said "China's strategic nuclear missiles have long ago realised global coverage, and China's overall military industrial capacity is much better than that of India".
"For India, China is something to inspire ambition and invoke patriotism. However, India should realise that owning several missiles does not mean it is a nuclear power. Even though India does become a nuclear power, it will be a long time before it can show off its strength to the world," it said.