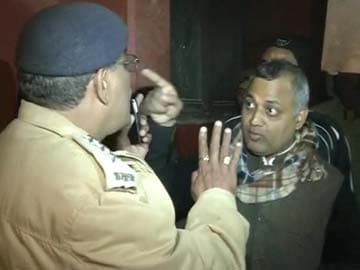 New Delhi:
When Delhi's Law Minister Somnath Bharti insisted that the police raid a home in his constituency where drugs and sex were allegedly being trafficked, the cops accompanying him refused. They said they didn't have a warrant, and couldn't break the law.
So the minister, aided by some residents and supporters, accosted four women from Uganda. At least two were forced to go to hospital and undergo drug tests.
Before that, "one of them was not allowed to go to the bathroom and was forced to urinate in public" said noted lawyer Harish Salve, who has reportedly decided to represent the women in a police case they filed today against "unknown persons."
The women tested negative for drugs at the hospital, and the minister has been accused of illegally detaining them and forcing medical exams on them.
(Does AAP owe an apology for the raid? Vote here)


"Here is a minister who is vigilant, trying to servehis constituency... at a place where he needs to be praised, people are trying to condemn him," AAP leader Ashutosh told NDTV in Mr Bharti's defense.
A woman from Uganda, who was among those surrounded by the minister and his mob, shared what happened on Wednesday night.

She told NDTV that she was headed home with a friend from a party when Mr Bharti and his group forced the cab to pull over.
She alleges that they were beaten by the men.
"They were not wearing a uniform. They were beating us... they beat me in my eye... they beat me wherever... I thought they were going to kill me. After that they took me to the police. The police helped me very well," she said.
However, Chief Minister Arvind Kejriwal wants the policemen who refused to cooperate with Mr Bharti to be suspended. But the city's top cop, BS Bassi, has responded that his men did their job, and must not be penalised. Lieutenant Governor Najeeb Jung has ordered an enquiry.
In the Law Minister's constituency, some residents say they support his action.
AS Sikander, who is a member of the Residents Welfare Association, said, "For years, we have been begging to our politicians to come to our help. Only Somnath Bharti came when we called and that too in the middle of the night."