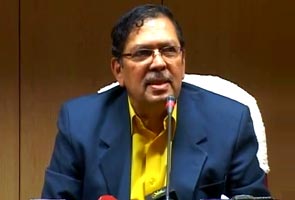 Bangalore:
Months after the Lokayukta report on illegal mining was submitted by the then Lokayukta Justice Santosh Hegde, it certainly begins to look as if not everybody named in the report will face action. Eighty-one police officers named as having taken bribes to allow illegal mining to flourish have all been cleared by the government appointed investigator, VS D'Souza, Deputy Commissioner of Police, Intelligence.
The Karnataka government, however, shied away from any controversy.
"Practically the government has taken right decision. At the initial stage under the chief secretary Jairaj, he headed a committee and he gave a report what all actions should be taken against various officials involved in the scam and who have been named in Santosh Hegde's report. Now all the departments have issued notice and we are going ahead with action - and we will come back to you within a month on the action taken," said Karnataka Chief Minister Sadananda Gowda.
Justice Hegde, whose report on the illegal mining led to political upheavel in the state, suspects foulplay.
"I don't know if the government is covering up, or the police are covering up, I do not know. It was inquired into by a police officer - with regard to the police officers named in my report. He has said he will not react, but one significant thing is that the only material relied upon by the Lokayukta investigating agency is a pen drive which is recovered by the IT investigators, which contained the names of these 181 officers. He says I suspect the genuineness of the contents of the pen drive because it was handed over by the IT department about four or five months later than it was recovered. I don't know how he can come to the conclusion that the pen drive has been changed, added to the contents. Why would the income tax department try to implicate 181 Karnataka police officers," questioned Mr Hegde.
Get Breaking news, live coverage, and Latest News from India and around the world on NDTV.com. Catch all the Live TV action on NDTV 24x7 and NDTV India. Like us on Facebook or follow us on Twitter and Instagram for latest news and live news updates.