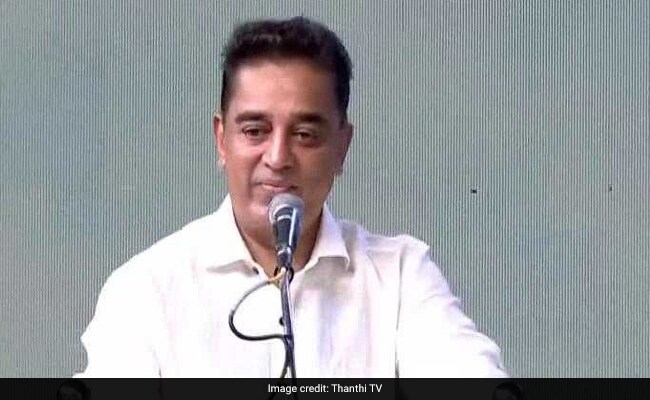 Madurai:
Superstar Kamal Haasan today launched his political party in Tamil Nadu's Madurai, sharing stage with Delhi Chief Minister Arvind Kejriwal who was also the chief guest at the event. My party's name is Makkal Needhi Maiam (or People's Justice Centre), the 62-year-old actor said, drawing a big applause from the crowd. He also unveiled his party's flag that has six hands firmly holding each other in a circle, with a star at the centre. The hands portray the six south Indian states, Mr Hassan said, adding that the star represents the people.
"This party does not end with me. I want to create a party that will last generations, Our party won't have a permanent chief minister"

"Chandrababu Naidu told me, don't think Left or Right, think people"

"My political ideology is the same as all good chief ministers. Politics in the name of religion should stop"

"People are giving Rs 6,000 for a vote. I cannot give this money. People have underestimated the value of a vote"

"All these days I was in your heart, now I want to be in your homes"

"Don't look at me as a star. I was a star, now I am a lamp, keep me lit, keep me from getting off by the wind of corruption"

"You worship so many gods. I let you be, so let me be. I like leaders. I like Ambedkar, Gandhi, Nehru, Kejriwal, Obama"

"Speak Tamil happily. If you keep speaking it, it will live. We don't have to hate any language. I can manage six languages"

" I want to make people rich by giving you jobs so that they won't depend on freebies"

"I will last until my last breath. The baton will then be handed over to the next generation"