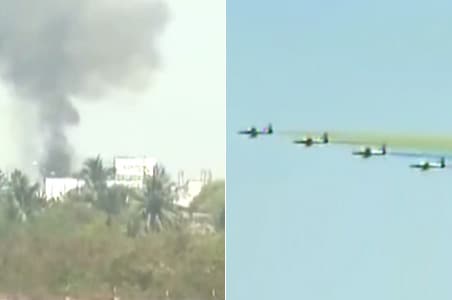 Hyderabad:
When an Indian navy airplane tumbled through the sky on Wednesday, it crashed into a three-storey residential building near the Begumpet Airport in the heart of Hyderabad city. (
Read: Plane crash at Hyderabad air show, both pilots dead
)
A cell phone tower and a 35,000 litre water tank were hit by the plane. Their remains sit precariously on the roof, which was ravaged by flames in the crash.
Engineers are worried about whether the building will collapse. So, people in the neighbourhood have been asked to vacate the area.
Investigators will rely heavily on the cockpit voice recorder to unravel what went wrong causing the plane to freefall during an aviation show.
Meanwhile, Hyderabad has its own inquiry to work through. Many point out that buildings near the accident site openly violate the law.
Of the building that was hit by the plane, Anil Kumar, an expert on building bylaws in the city, says, "On the third floor was a penthouse and on it was a cell tower, which definitely beats height restrictions imposed by the airports authority and cantonment byelaws which restricts building height to 12 metres."
The owner of the building, Ramesh Kumar Goud, says "There are many buildings here with ground floor plus two and also a penthouse. Mine is also like that only."
Officials say that before the air show, the pilots had familiarised themselves with the topography, as is the norm. (
Read: Debate over precautions for air show
)
"The pilots had two practice flights and everything was fine. They had flown in from Goa and had two rehearsals," says Vivek Kodikal, a spokesperson for the Civil Aviation Summit 2010, whose inaugural event witnessed the plane crashing.
It will take at least another two days for the wreckage to be cleared, and for the evacuated residents in the neighbourhood to return home. (
Read: Hyderabad crash: Ground Zero, 24 hours later
)
Also read:
Recent crashes of aerial display teams