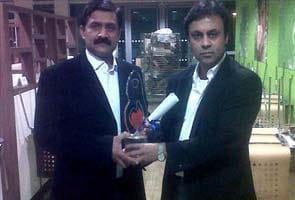 Mumbai:
A Mumbai NGO which had conferred an honour on Pakistani teenager Malala Yousafzai managed to recently deliver this to her in Britain, outsmarting the tight security blanket around her family members.
The feat was achieved by cracking the wall of security put up by Pakistani and British personnel to ensure that the award directly reached Malala, 14, and her family, an organizer said.
Last month, when Mumbai NGO Harmony Foundation selected Malala for its prestigious "Mother Teresa Memorial Award for Social Justice", it generated considerable excitement over who would receive the honour. The award ceremony took place exactly a week after Pakistani terrorist Ajmal Kasab was hanged Nov 21 for his role in the 26/11 Mumbai terror attack.
Despite the best efforts of Harmony Foundation president Abraham Mathai and several top Indian and foreign officials, Malala's family members were not permitted to come and receive the award, presented November 28 at a glittering ceremony attended by many dignitaries.
It was received on Malala's behalf by Sevy Ali, a Pakistani origin British filmmaker who is currently involved in a movie production project in Mumbai. That was the start of an operration that eventually saw the award being handed over to Malala's father, Ziauddin Yousufzai.
Hailing from the Swat region of northwest Pakistan, Malala catapulted to international fame after she was shot in the head by the Taliban October 9 for speaking out in favour education for girls and women in her country.
The Pakistan authorities, embarrassed by the outrage over the spine-chilling attack, promptly placed her immediate family under a tight security blanket, especially after the Taliban warned of a repeat attack.
They even undertook to bear the full costs of her medical treatment and shifted her to Britain for specialized treatment at Birmingham's Queen Elizabeth Hospital.
"The whole world lauded Malala's courage in the face of adversity and we decided to confer on her an award named after another saint who enjoyed universal admiration," Mr Mathai told IANS.
He said that Harmony Foundation was determined to present the award directly to her family - and succeeded in the venture.
"We requested Sevy Ali to help us in this effort and he readily agreed," Mr Mathai said, adding that since he (Sevy Ali) holds a British passport, his movements are virtually unhindered in England, India and Pakistan.
After Mr Ali's nod to carry the award trophy and citation to Britain, the next challenge was to wean Malala's father briefly out of the security ring.
Since any access to Yousafzai was routed through the Pakistani High Commissioner to Britain and then through several tiers of security, it was "a near-impossible task" getting him out of the security detail.
"Somehow, by-passing all hurdles, I managed to pass the message to Yousafzai to overcome his security and spare a few minutes for accepting the award," Mr Mathai winked, but declined to go into details of how it was made possible.
Accordingly, on December 1, the operation was successfully completed. Yousafzai managed to walk out of his massive security cordon, met Ali and happily accepted Malala's honour by the Indian NGO.
Mr Mathai praised Ali for "taking all the trouble and going to Birmingham at short notice only to carry the award, and ensuring it reached Malala's father."
A visibly moved Yousafzai expressed his gratitude to Mr Mathai and the Harmony Foundation for the honour. "We would like to thank the millions of people praying for Malala's speedy recovery and are expecting a miracle to happen," he said after the award was delivered to him.
"We would have been happy if the Pakistan government had permitted Yousafzai to come and receive the award in person. It would have been a significant step in boosting people-to-people relations between the two countries," Mr Mathai added.
Malala and Sima Samar of the Afghan Independent Human Rights Commission were the two international awardees. The Indian awardees included vetern journalist Kuldip Nayar, supercop Sanjiv Bhat, rights activist Flavia Agnes, The Pandita Ramabai Mukti Mission, theIndian Cancer Society, the Shillong Chamber Coir and NDTV.