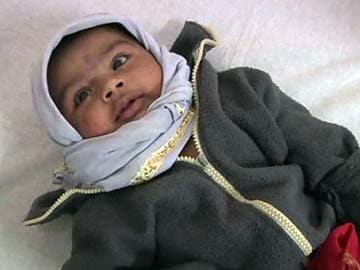 Malin, Maharashtra:
Beneath a mountain of mud that used to be Malin village near Pune, a baby's wail became the beacon that helped rescue workers save four members of a family.
A landslide on Wednesday morning brought an entire hillside crashing down and wiped out over 40 homes. 41 bodies have been found and the count is rising; 150 are still missing.
The cries of three-month-old Rudra, buried under slush with his mother, were loud enough to catch the attention of disaster management teams who chased the sound to a tin shed completely covered in mud.
Rudra's mother was feeding him when the landslide hit, reducing their home into rubble, and she covered him and kept him alive. Eight hours later, they were both pulled to safety, thanks to his loud, incessant crying. A further search revealed two more people crying for help. They were Rudra's grandparents.
"I held on to an iron shelf and kept shouting for help but no one heard me. Rudra kept crying till people found us," said the child's mother, Pramila.
Rudra's grandmother Shakuntala Pingle said, "I still don't know how we survived."
All four are now at a government hospital 60 km from Malin. Doctors say they are not hurt badly, just shocked at finding most of their neighbours dead.
On Thursday, rescue workers continued their search for possible survivors using earth moving machines, as mass cremations took place a little distance away.
"We are trying to make them comfortable. It is a big shock to them," said Seema Deshmukh, Manchar hospital superintendent on Rudra and his family.