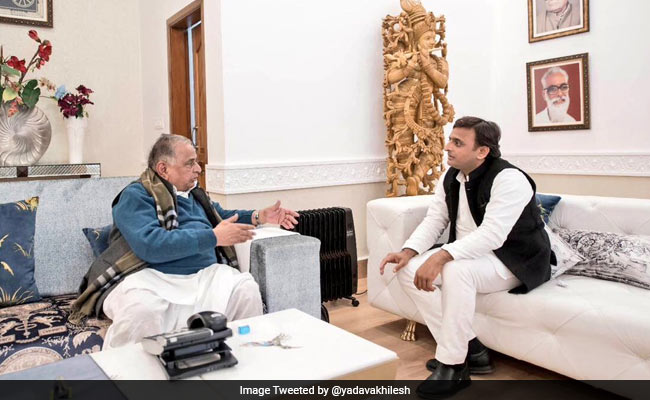 Highlights
No victory where my father's put down is a matter of happiness: Mr Yadav
Election Commission said Mr Yadav has rights to party name and symbol
Mr Singh won't challenge son in polls, say close aides of Mr Yadav
Lucknow:
In the midst of a major winning streak in the fight for power with his father, Uttar Pradesh Chief Minister Akhilesh Yadav told NDTV today that "no victory which sees my father put down is a matter of happiness... but this fight was necessary."
Yesterday, the
Election Commission granted custody of the Samajwadi Party, founded more than 20 years ago by Mulayam Singh, to his son
. With virtually all the party's legislators and delegates supporting the young chief minister, the Election Commission said that it is Akhileh Yadav and not Mulayam Singh who has rights to the party's name and symbol of the cycle, identified easily by voters, many of whom are illiterate.
"He is my father... and
after the verdict from the Election Commission, I went straight to meet him
," said the Chief Minister today at his home, which is connected to that of his father. "I went to seek his blessing," he added.
Close aides of Akhilesh Yadav say they are confident that Netaji, as the patriarch is known, will not challenge his son in the elections by contesting as separate party with its own candidates, a move that could split votes and benefit rivals like Mayawati and the BJP.
The feud between the Yadavs, which had been simmering for months, lurched into epic drama turf when Mulayam Singh and his brother, Shivpal Yadav, culminated months of plotting against the Chief Minister by excluding him from deciding candidates. Akhilesh Yadav, who has picked another uncle, Ram Gopal Yadav, as coach, then released his own list of candidates and held a party meeting where he was announced the new Samajwadi Party President, forcing his father into retirement with the designation of "a mentor."
Both sides then asked the Election Commission to recognize them as the authentic party. Akhilesh Yadav won the case. He has, through the fast-paced feud, reiterated that he holds great respect for his father - a message that will serve him well in the patriarchal landscape of Uttar Pradesh - but that he was forced to act against him to save their party from being eviscerated by the machinations of Shivpal Yadav and Amar Singh, who Mulayam Singh has relied on heavily.