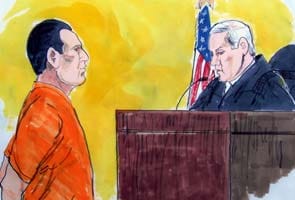 Chicago:
As Chicago federal judge Harry D. Leinenweber sentenced David Coleman Headley to 35 years in prison today, he said, "No matter what I do it is not going to deter terrorists. Unfortunately. Terrorists do not care for it." Headley, an American, had pleaded guilty to playing a key role in the 2008 Mumbai terror attack that killed more than 160 people.
Headley was sentenced on 12 counts, including conspiracy to aid the militant group Lashkar-e-Taiba (LeT) in attacking landmark targets in Mumbai.
(Read)
The American conducted meticulous scouting missions in India before the 10 LeT militants sailed into Mumbai from Pakistan and carried out the devastating assault.
The maximum sentence was life in prison. Headley, 52, pleaded guilty and cooperated to avoid the death penalty and extradition to India.
While pronouncing the sentence, the judge said he did not have "any faith in Mr Headley when he says that he is a changed person now...and wants to live by American values." He also said that he had "a duty to protect the public from Mr Headley and ensure that he does not get into any further terrorist activities. He commits crime, cooperates and then gets rewarded for the cooperation."
Judge Leinenweber observed that during the trial of his associate Tahawwur Hussain Rana, when Headley was asked if he was remorseful for the loss of life, "I remember he said something like 'they are Indians, they are responsible because Pakistanis were killed in Kashmir.' I am not here to say who is correct, India or Pakistan...that is a fight that has been going on for a long time. Apparently, it is getting resolved. But it is this mindset that is obviously the most troubling."
(With inputs from Agencies)
Get Breaking news, live coverage, and Latest News from India and around the world on NDTV.com. Catch all the Live TV action on NDTV 24x7 and NDTV India. Like us on Facebook or follow us on Twitter and Instagram for latest news and live news updates.