New Delhi:
To gauge whether the notes ban has significantly boosted digital transactions involves an analysis of a wide range of electronic applications, from multiple forms of bank transfers, credit and debit card use, mobile wallets and so on.
We took our cues from the Prime Minister's website, www.narendramodi.in which uploaded a series of infographics to mark one year of the notes ban, of which three are meant to highlight a surge in India's digital economy, by comparing data from August 2016 to August 2017. All the data appears to have been sourced from the RBI.
The first pertains to mobile wallets (such as PayTM, MobiKwik), showing a growth of 136 per cent in the value of transactions between August 2016 and 2017, from Rs 3,074 crore to Rs 7,262 crore.
But RBI data for the same period in the previous years, finds this medium has grown at a higher or comparable pace: 213 per cent in 2014-15 and 130 per cent in 2015-16.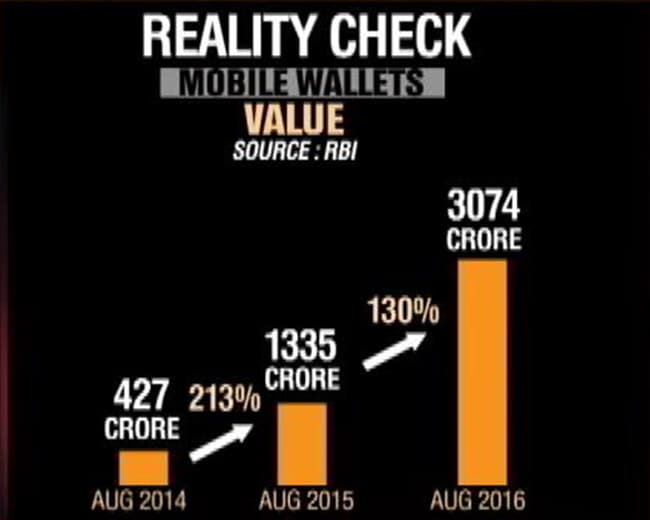 The volume of mobile wallet transactions, however, noted on the PM's site, has been unusually high in the past year, growing at 218 per cent.
The growth by volume was 158 per cent and 65 per cent in 2014-15 and 2015-16 respectively.
The second infographic on the Prime Minister's site pertains to IMPS transactions or Immediate Payment Service, an instant bank fund transfer method. This is shown as growing at 142 per cent in value and 123 per cent in volume between August 2016 and August 2017.
Again, data for previous years finds that these are not "once in a lifetime" numbers.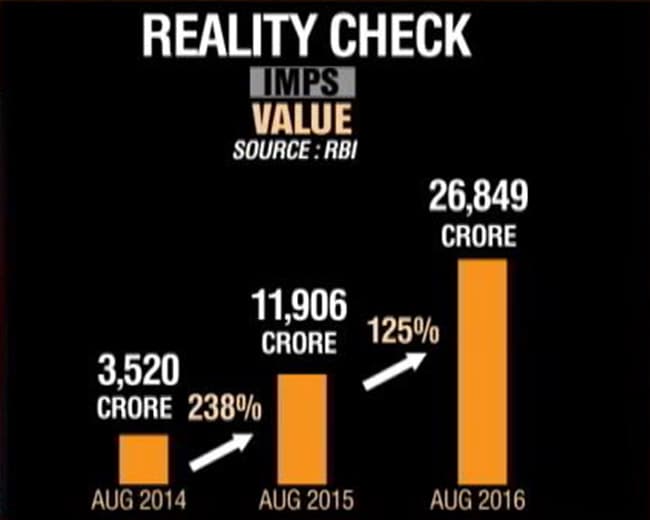 The value of IMPS transactions grew by 238 per cent between August 2014-2015 and by 125 per cent between the same months of 2015 and 2016. The volume of IMPS transactions also tell a similar story, growing by 247 per cent and 103 per cent in 2014-15 and 2015-16 respectively, higher or comparable to the figures cited by the PM.
Finally, the PM's site shows an increase in the usage of debit cards, growing 92 per cent in value and 103 per cent in volume between August 2016-17.
This is the one digital platform which seems to have witnessed an unusual surge in the past year. Debit cards by value grew by 29 per cent and 35 per cent in 2014-15 and 2015-16; the volume of these transactions also grew 45 per cent and 34 per cent in the corresponding years, far less than the growth in the post-notes ban period.
The government has linked demonetisation, and the digital push with a reduction of cash in the economy, down 10 per cent between November 2016-October 2017, touted as another success. Too much cash, the government has argued, fosters corruption.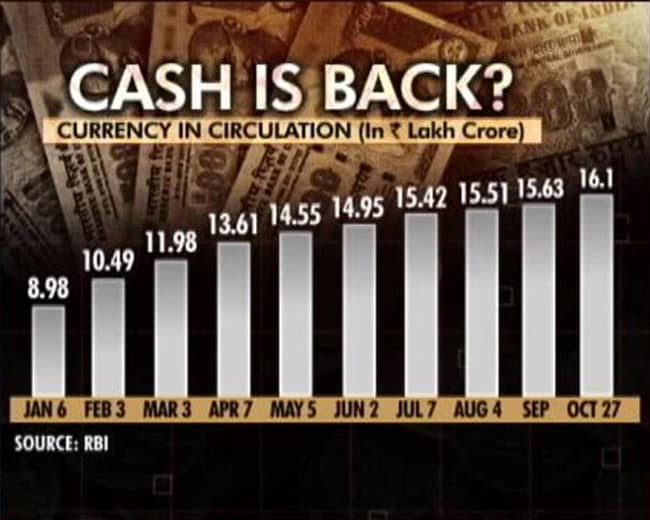 But that number may not remain static. As the RBI gradually replenished cash in the economy, the circulation of banknotes has steadily increased, from Rs 8.98 lakh crores in January to Rs 16.1 lakh crores in October, inching closer to the amount of cash in circulation at the time of demonetisation - Rs 17.97 lakh crores.
Regardless, it remains an open debate whether the "gains" of demonetisation - a reduction of cash by 10 per cent and a higher-than-normal boost to debit card usage - are worth the turmoil caused to the economy, and the populace.