Ahmedabad:
Highlights
Gujarat will hold assembly elections in December
Patel quota stir leader Hardik Patel has vowed to 'bring down' ruling BJP
Says will support Congress amid criticism from other Patel leaders
Hardik Patel blinked today, saying he will support the Congress in the Gujarat Assembly election, since the party is "openly supporting Patidars." For days the 24-year-old activist has held out from publicly backing the state's main opposition party, demanding that it explain how it plans to meet the Patel or Patidar community's demand for reservation in government jobs and colleges if comes to power in Gujarat.
The Congress hasn't met that demand, but Hardik Patel, back in Ahmedabad after a whirlwind tour of Saurashtra, told NDTV, "I have been telling my community that they have to vote the BJP out of power...the community is directly supporting the fall of the BJP."
Asked if this meant he will seek votes for the Congress, Hardik Patel said, "People are intelligent. When I tell them to vote the BJP out, they know who to vote for.'' He rejected allegations of a "sellout" made by other Patel groups, saying "they are not real representatives of Patidars. They are propped up by the BJP." Mr Patel accuses the state's ruling BJP, the Patels' party of choice for years, of betraying the community by not acceding to its quota demand.
Hardik Patel, who became the young face of the Patel agitation two years ago, is drawing big crowds at the rallies he is addressing all over Gujarat, where elections will held next month. But at least six Patel organisations have accused him of turning their reservation stir political for personal gains, and say he will not necessarily deliver a big chunk of Patel support.
Hardik Patel, they allege, has capitulated by agreeing to support the Congress without extracting from it a promise to ensure the Patels are given the status of an Other Backward Class (OBC) so that they can get benefits of affirmative action within the 50 percent quota approved by the Supreme Court.
"He is misleading the agitation and Patidars and now even agreeing to no quota within OBCs. Which means he is no longer interested in reservation but playing politics over it," said CK Patel, coordinator of a joint Patidar committee formed by the trust.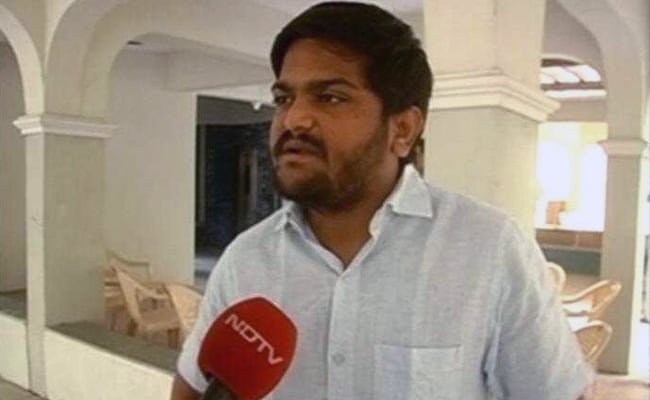 The Congress is unable to promise that it will have the Patels included in the list of Gujarat's OBCs. It has recently inducted Alpesh Thakore, a young leader of the other backward castes, 40 per cent of Gujarat's voters, and who are opposed to sharing the benefits of reservation with the upper caste Patels.
The opposition party's best offer so far is a promise to provide, if voted to power, 20 per cent reservation to economically backward or weaker classes (EBCs) among the Patels through a Constitutional amendment.
Agreeing to that, Mr Patel's critics argue, is a cop-out. Attempts at providing extra quota above the limit set by the Supreme Court rarely survive a legal challenge, they say, pointing out that Gujarat's ruling BJP made the same offer but Hardik Patel rejected it.
Hardik Patel has been known to vacillate and sources said he could still change his mind on the Congress under pressure. Senior Congress leader Kapil Sibal could visit Gujarat next week to negotiate with Mr Patel, sources said.
The Congress is wooing young leaders like Hardik Patel and Alpesh Thakore who represent communities that have been agitating against the BJP government in Gujarat. Dalit leader Jignesh Patel has declined the party's offer to join it.
Gujarat will vote on two days, December 9 and December 14 and results will be announced on December 18. BJP chief Amit Shah has set his party, in power for the last 22 years, a target of winning 150 of the state's 182 assembly seats. The Congress hopes for an anti-incumbency sentiment to help it dismantle those plans.
Get Breaking news, live coverage, and Latest News from India and around the world on NDTV.com. Catch all the Live TV action on NDTV 24x7 and NDTV India. Like us on Facebook or follow us on Twitter and Instagram for latest news and live news updates.