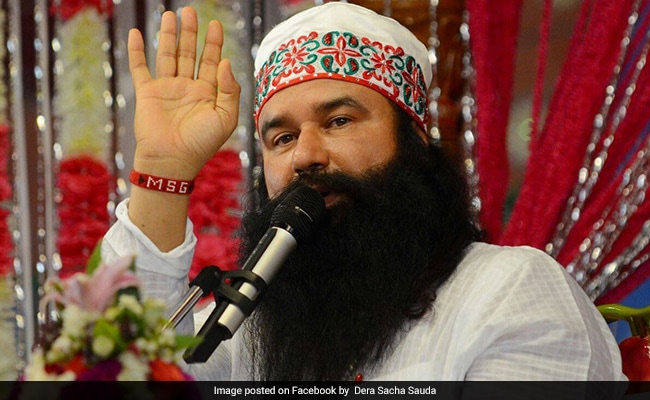 New Delhi:
Two days after rape convict Gurmeet Ram Rahim Singh applied for a 42-day parole to tend to his fields in Haryana's Sirsa district, a report by the Tehsildar's office today said the Dera Sacha Sauda chief has no agricultural land in his name. There are more than 250 acres of land registered in the name of a trust but Gurmeet Ram Rahim is neither the owner nor the cultivator of this land.
Speaking yesterday, Haryana Chief Minister Manohar Lal Khattar said every inmate had the right to apply for parole.The chief minister, who said no decision had been taken in the matter. also said they "can't stop anyone" from seeking parole and that they will take no decision which will be "against the interests on the state."
"The decision rests with the Divisional Commissioner and the report is awaited. We won't take any decision which will be against the interests of the state. Every inmate has a right to apply for parole and when and if the role of the government will be involved, we will see to it," he said.
He added that the decision on parole rests with the divisional commissioner.
Haryana minister KL Panwar said Gurmeet Ram Rahim was entitled to make a parole request, as were all convicts who have served a year of their sentence. The minister also claimed there were no politics involved in the timing of the request, pointing out that the state could have released Gurmeet Ram Rahim Singh before last month's national election had it so chosen.
"Everyone is equal before the law and he has all the rights to request for parole. He submitted his request and we forwarded it to the commissioner of police, DM (Sirsa) and SP (Sirsa). Further talks will be initiated on the basis of the reports," the minister explained.
Gurmeet Ram Rahim's parole request was earlier acknowledged by the superintendent of his jail, who claimed the prisoner was not a "hardcore criminal" and had not violated any rules in jail.
Gurmeet Ram Rahim has finished a year of his 20-year sentence. He is convicted in two rape cases and the murder of a journalist, for which he was sentenced to a life term. The 51-year-old is currently lodged at Sunaria jail in Rohtak.
In April, he was denied interim bail by the Punjab and Haryana High Court; he wanted to attend the marriage of his foster daughter on May 10. The court turned down the request citing the law and order situation ahead of the national election. The court also stated that there will be "difficulty in rearresting him." Haryana voted on May 12, in the sixth phase of the polls.
With input from ANI