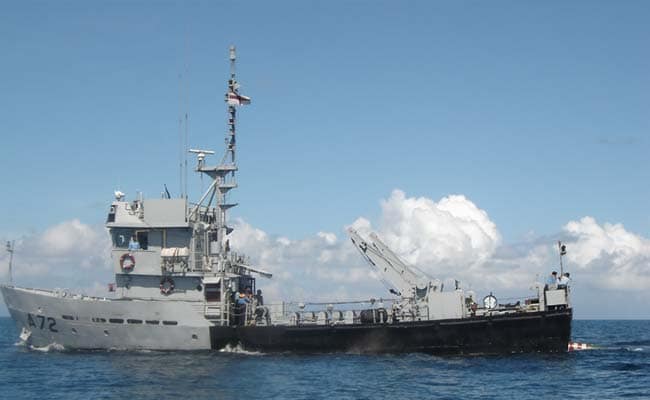 Visakhapatnam:
Chances of finding the four Navy personnel missing after a torpedo recovery vessel or TRV sank off the coast of Visakhapatnam on Thursday are "grim," Navy Chief Adm RK Dhowan said today, adding that the search will go on at least till November 13.
"Search operations are this point in time are still continuing though the chances appear a little grim," Admiral Dhowan said, adding "we will continue to make all efforts to see whatever can be done to locate the crew of the TRV".
Several ships of the Eastern Fleet and a few aircraft including Boeing P8I, Dorniers, Sea King 42C and Chetak helicopters have been deployed in search operations which on in an area 120 nautical miles south-west of Visakhapatnam.
The Navy Chief, who visited Visakhapatnam on Sunday to review search operations, said he had spoken to the crew of the Torpedo Recovery Vessel (TRV) A-72 regarding the incident.
The vessel, with 29 personnel on board, was on a "routine" exercise to recover practice torpedoes fired by fleet ships, when it started sinking, said sources. 24 people were rescued; a sailor was killed.
The vessel had reportedly sunk to a depth of around 370 metres. Sources say a crack may have developed in the hull, specifically a recess called the sea chest designed for water intake, which resulted in water gushing in and sinking the ship.
"The reason as to why the flooding could not be controlled is a cause of serious concern and it will be investigated thoroughly," he said.
The Navy has experienced a spate of accidents at a time when it is trying to modernise and expand its reach to keep up with the rising maritime ambitions of neighbour China.
The dangers of the ageing fleet of the Navy have been highlighted with a series of accidents in the last few months.