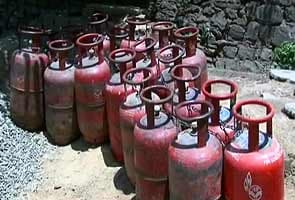 New Delhi:
The government today raised the cap on subsidised LPG gas cylinders from six to 9 in a year. The decision was taken after a meeting of the Cabinet Committee on Political Affairs (CCPA).
The decision will be implemented from April this year. For the remaining part of this fiscal year, the cap has been raised from three to five cylinders.
Sources said that Centre wrote to the Election Commission seeking permission to take the proposal of increasing LPG cap as model code of conduct is in place as assembly elections in three states - Tripura, Nagaland and Meghalaya - have been declared. The Commission examined the request and permitted the Centre to raise the cap.
During the last phase of elections in Gujarat in December, the Commission had taken a serious note of the government's announcement regarding a possible raise in the number of subsidised LPG cylinders each family can have in a year.
The poll body had then asked the government against making any such announcement in future without its approval when the model code is in operation.
Subsidised LPG costs Rs 410.50 per 14.2-kg cylinder, while the market price is Rs 895.50 per cylinder.
Oil Minister Veerappa Moily also announced a partial deregulation of diesel prices, but left the price hike decision to oil marketing companies.
"For now, there's no revision in the prices of diesel. But the companies are authorised to make price revision from time to time," Mr Moily said today.
While no diesel price hike was immediately announced, sources told NDTV that prices could be hiked in a week's time.
State-run refiners currently sell diesel at a loss of Rs. 9.28 per litre, which is the most consumed fuel in India.
A hike in diesel prices will bring down the government's fuel subsidy which is estimated at an unprecedented Rs. 1,60,000 crore in this fiscal on account of selling diesel, cooking gas (LPG) and kerosene below their market price.
(With inputs from agencies)