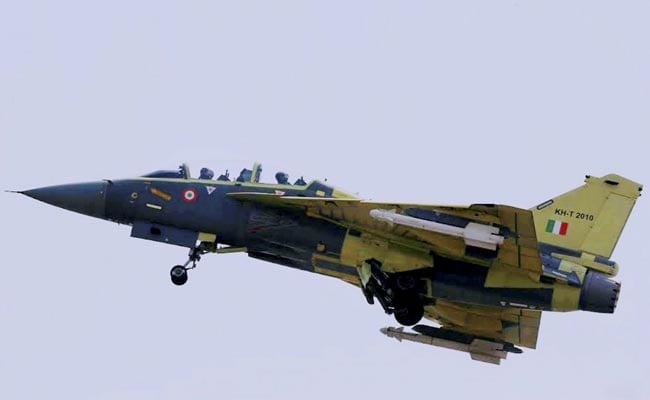 New Delhi:
India's Tejas Light Combat Aircraft project, in the works for over three decades, came under severe criticism from the Comptroller and Auditor General of India (CAG) on Friday, which said the Mark-I version has several shortcomings and does not meet IAF specifications.
Not only that, Indian Air Force (IAF) would be "constrained" to induct the fighter LCA without availability of a trainer model, thereby "adversely impacting pilot training", the audit body said in a report tabled in Parliament.
The CAG noted that it was due to the delay in the manufacture and supply of LCA that IAF had to go for alternative temporary measures such as upgrading its MIG BIS, MiG-29, Jaguar, and Mirage aircraft at a cost of Rs 20,037 crore and revise the phasing out of MiG-21s.
Listing the shortcomings, the CAG said that the LCA Mark-I fails to meet the electronic warfare capabilities sought by IAF as the Self-Protection Jammer could not be fitted on the aircraft due to space constraints.
Also, it said that the Radar Warning Receiver/Counter Measure Dispensing System fitted on the aircraft had raised performance concerns which are yet to be overcome (January 2015).
The LCA Mark-I, which got Initial Operational Clearance in December, 2013, significantly falls short (20 permanent waivers/33 temporary concessions) in meeting the Air Staff Requirement (ASR), the CAG said, adding that that has led to reduced operational capabilities and survivability and, consequently, its operational employability.
It added that the shortcomings in the Mark-I (increased weight, reduced internal fuel capacity, non-compliance of fuel system protection, pilot protection from front, reduced speed) are expected to be overcome in the Mark-II model.
"LCA Mark-I does not meet the ASR. The deficiencies are now expected to be met in LCA Mark-II by December 2018," the CAG said.
While DRDO has always showcased LCA, christened Tejas, as an indigenously-developed aircraft and the indigenous content of the LCA was estimated by ADA to be 70 per cent, the CAG said it "actually worked out to about 35 per cent" as of January this year.
Systems such as Kaveri engine, Multi-Mode Radar, Radome, Multi-Functional Display System and Flight Control System Actuators taken up for indigenous development could not be developed successfully, resulting in LCA's continued dependence on the import of these systems, CAG said.
IAF had proposed in the early 1980s that a new aircraft be developed to replace the MiG-21 fleet, manufactured during 1966 and 1987, after its phasing out in the 1990s.
The project for indigenous design and development of LCA was sanctioned in 1983 at a cost of Rs 560 crore, which was enhanced from time to time up to Rs 10,397.11 crore.
The government in June, 1984, constituted an Aeronautical Development Agency (ADA) as a dedicated institution for the management of the LCA project.
IAF had issued Air Staff Requirement (ASR) in October, 1985, envisaging a light-weight multi-mission fighter with contemporary air combat and offensive air support capabilities and excellent manoeuvrability for close air combat at low and medium altitudes.
The projected requirement was for 220 Light Combat Aircraft (200 Fighters, 20 trainers) to be inducted by 1994.
However, LCA could only achieve Initial Operational Clearance in December, 2013, as against the earlier scheduled date of December, 2005.
The Full Operational Clearance (FOC), which was scheduled to be completed by December, 2008, is now slated to be achieved by December this year although experts said even that could be delayed.
The CAG added that ADA's decision regarding the advance building of two prototypes from Full-Scale Engineering Development (FSED) Phase-II to FSED Phase-I so as to utilise its savings on the grounds of accelerating the development process of LCA had failed to yield the desired results.
This, the report said, was because preponed prototypes were deficient in terms of critical onboard systems (Multi- Mode Radar, Self-Protection Jammer, Radar Warning Receiver) and led to ADA using the Limited Series Production (LSP) aircraft (meant for IAF use) towards flight testing/evaluation of these critical on board systems.
"This was in contravention of the Cabinet approval (November, 2001) for phased development of the prototypes in FSED Phase-II after Technical Demonstrators had been built and flight tested for 210 hours," CAG said.
Talking about lack of trainer aircraft, the audit body said that IAF was in the interim using an upgraded Full Mission Simulator (FMS) at ADA for pilot training, pending supply of an FMS by HAL at the LCA operating base.
It said that the long gestation period led to a change of weapon systems on LCA, necessitating the acquisition of new ones.
"That led to design changes on the aircraft, coupled with delay in integrating R-73E missile with Multi-Mode Radar/ Helmet Mounted Display and Sight. Delayed identification (December, 2009) of Beyond Visual Range Missiles also contributed to the delays in achieving IOC/FOC by LCA," the report said.