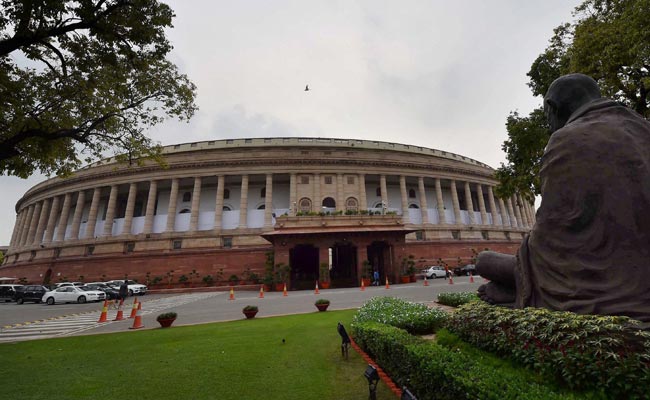 Delhi:
The Government today made a strong pitch for the passage of the triple
talaq
bill in the Budget Session of parliament and said it would talk to various parties to bring about consensus on the issue.
A day before the start of the session, the government met leaders of several political parties in parliament House and sought their cooperation in ensuring its success.
The meeting was attended by Prime Minister Narendra Modi, union ministers Rajnath Singh, Arun Jaitley and Ananth Kumar, besides leaders of the opposition and other parties.
Parliamentary Affairs Minister Kumar termed the all-party meeting "fruitful".
The government will do everything possible to ensure the passage of bill in the Budget Session, Mr Kumar later said.
Finance Minister Arun Jaitley will present the current BJP-led NDA regime's last full-fledged budget on February 1. The first spell of the session will end on February 9.
Parliament will meet again between March 5 and April 6.
The budget is likely to carry a strong political message with an emphasis on farmers and the poor and an eye on the 2019 Lok Sabha elections.
Besides the budget priorities, it is the government's legislative agenda which is likely to witness strong protests from the Opposition.
It will also seek to corner the government during the debate on the 'Motion of Thanks to the President's Address' over a host of issues, including unemployment, farm distress and communal clashes, opposition leaders said.
The President's address, which projects the government's points of view, is likely to focus on the Centre's efforts at boosting economic and farm growth, creating employment and empowering the poor and other weaker sections of society.
Besides the triple
talaq
legislation, which criminalises instant
talaq
by Muslim men, the government is also likely to make a pitch for the passage of the OBC bill, which seeks to give a constitutional status to the OBC commission.
Both bills are politically significant for the BJP which is a strong votary of the abolition of instant triple
talaq
among Muslims, a practice declared void by the Supreme Court last year.
The Lok Sabha had passed the bill seeking imprisonment for Muslim men convicted of practising instant triple
talaq
, but a united opposition had stalled it in the Rajya Sabha, where the NDA lacks a majority.
The BJP also hopes to consolidate its support among backward classes by according constitutional status to the OBC commission, which, it believes, will give it more teeth.