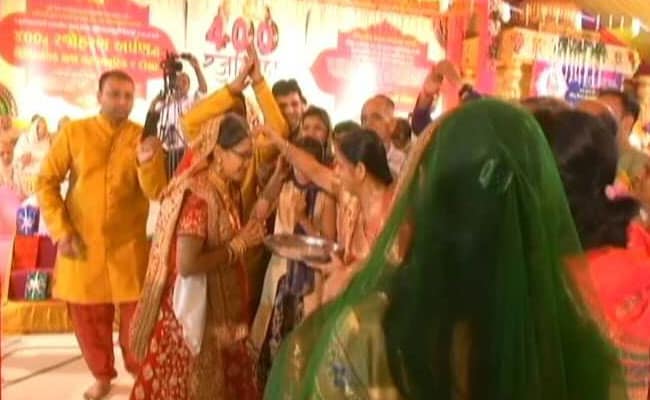 New Delhi:
Twelve-year-old Bhavya, son of a diamond merchant from Surat, loved Ferrari cars. Bhagyaratna Vijayji Maharaj, as he is known now, took a vow of renunciation (diksha) a fortnight ago to join an order of Jain monks.

"When he was 8, I told him we'd buy him one when he's old enough to drive. Today he is not allowed to sit in a car," said his father Dipesh Shah. "A Jain monk's life is spent walking barefoot from one place to another even in the scorching heat," he added, emotion writ large on his face.

Videos of Bhavya on his way to his 'diksha' ceremony, - sitting atop a chariot dressed like a prince, wearing branded sun-glasses -- were so compelling that it became national news.


After initiation, he was allowed to own only two white garments, a bowl for alms and a "
rajoharan
", which is a white broom Jain monks use to brush insects away from an area before they sit -- a mark of the path of non-violence they follow.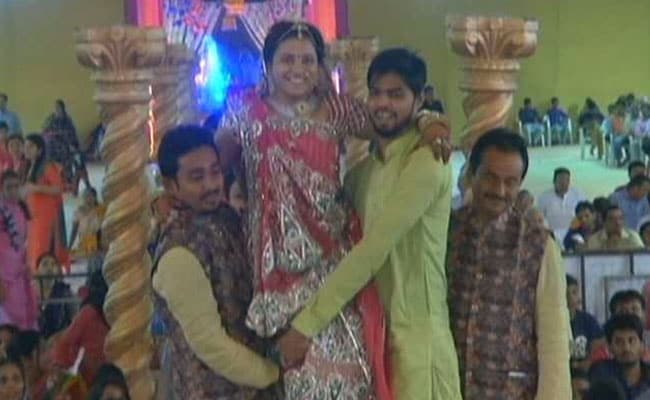 The "before and after" images of diksharthis, or those who seek diksha, are dramatic. For the public, what's of interest is not the metaphysics but reasons why one would renounce wealth and comfort for an austere monastic life. In case of the very young, there is also a concern whether the decision was their own.

In April, there were as many as 55 initiation ceremonies across Mumbai, Ahmedabad and Surat -- cities that have a large Jain population.

NDTV spoke to Heta Shah, who trained as a pharmacist from Canada, on the eve of her initiation. Initially she was reluctant to speak and relented only when she found the interviewer was a woman.

For the ceremony, Heta was dressed like a bride - swathed in green and orange, hands and feet covered in henna, thick hair elaborately arranged, covered head to toe in jewellery.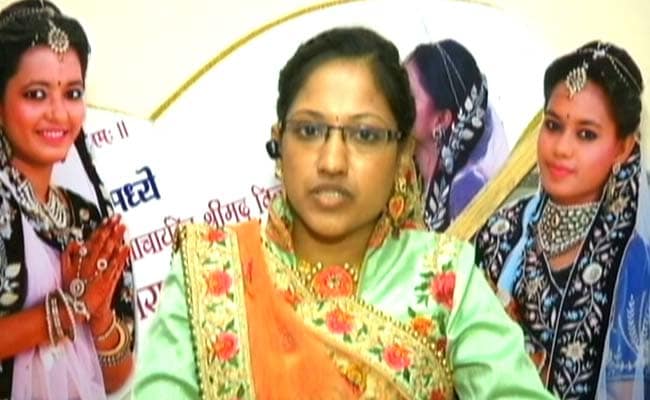 The family had moved to Canada when she was just 10 years old. She grew up as a normal teen, with a successful career, car, friends and a loving family. But six years later, she was back in India to study Jain scriptures, led to her decision by relatives who had taken vows.

"You spend your life building a career, a house, making money... but at the end of the day when you pass away, you take nothing. I wanted something I could take with me in my next life... the only way to do that is 'Sayyam Jeevan'," she said.

It's a term that's repeated by all. "Sayyam Jeevan" or the way of the ascetics is a concept highly revered and frequently referred to in Jain sermons. A life lived in this fashion, it is believed, increases the chances of escaping the cycle of rebirth.

When Heta's brothers tried to persuade her against her decision, she silenced them with, "You think of short-term goals mine is long term".

For diksharthis, the initiation process begins with a traditional final meal before sunset. It is the last supper they have with their families. Here on, they are not allowed to cook for themselves and can only eat what they get as alms.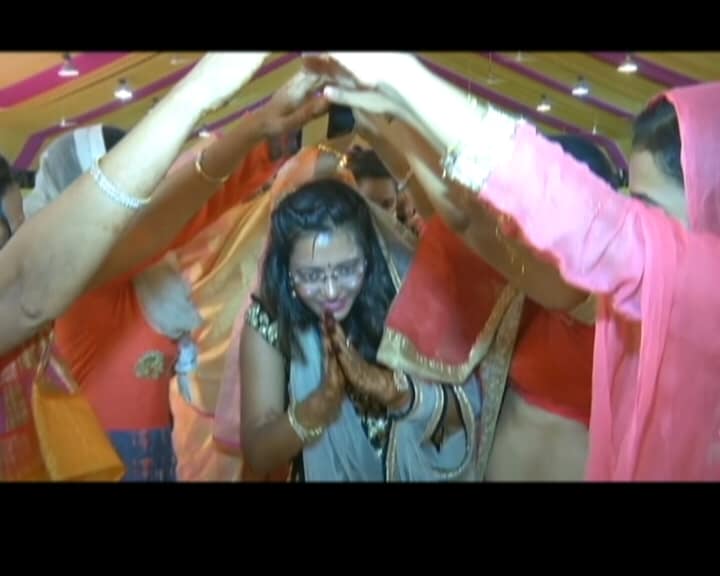 Seeking initiation with Heta were nine others - among them an elderly couple, a diamond merchant and two sisters, Nidhi and Neha.

The extrovert of the group, Nidhi was happy to give the assembled media what seemed practiced soundbytes: "I don't want Adidas, I want to be Adi ka das. I don't want Levis, I want to live wise. I do not want Pepsi, I want mercy. I don't die for wealth, I want my desires to die."

A vivacious 15-year-old, her views were at marked variance with most teenagers'. The concept of boyfriends, she said, was "trivial". "For girls, boys are like devils. They ensure an attachment that traps the soul. A life of Jain sadhvi will free me from such temptations," she said.

After the meal, the diksharthis proceeded to a grand tent looking like a castle. Most initiation ceremonies are planned like a wedding, with a night of music (Jain bhajans set to the tune of Bollywood hits) before the early morning vows.

Inside the tent, their extended family, friends and the local Jain community gathered to celebrate their renunciation. This is when a person's wealth is given in charity.

"We are to have no possessions and no expectations from people," Nidhi explained. "If today, I ask any married couple if they are happy, the answer will be no. The minute you think another person will give you happiness, the trouble begins. If he takes you to a hotel but it is not candle-lit then you are sad, because we have seen in films this is how it has to be. Agamas (Jain texts) teach us that happiness lies in oneself. Mahavira tells us that the desire to be desireless is the only desire to have."

As the evening ceremony unfolded, the diksharthis were made to sit on gilded sofas upholstered in red velvet, to be greeted by family and friends. They touched the feet of their parents, showering them with rice, thanking them for their birth and saying final farewells.


Here on, they break all family ties. If their parents want to meet them, they have to visit like other devotees, at an upasraye (places where Jain sadhus and
sadhvis
temporarily reside during their journeys).
"I know my parents will miss me," Nidhi said, "especially my dad, but my mother is used to this. My grandfather took initiation 10 years ago. My mother wanted to take
diksha
but her father had not permitted her so it was her decision that we should do so."
Then she hastened to clarify: "She never forced, but she brought us up in a way that we felt there was no other path that made sense. We're also proud to fulfil her desire".
Prominent monks and nuns blessed the
diksharthis
before they took their vows from their guru. All bowed down to pray before breaking into an exhilarated dance.
The next morning the ceremonies started early. The initiates woke at 3 am to dress and set out in a procession, unsurprisingly called a "
baraat
(wedding procession)".
All rode on an open truck, decorated with gold threads and flowers. A band of musicians and dancers led the procession as it wended down the street.
People came out of their homes to watch. The procession ended at another grand tent, designed like a palace. Here each initiate had to give their reasons for choosing this path before the rituals began.
At the end, a crown each was wearing was taken off and handed to a family member.
The crown draws its significance from the history of Jainism. Most of the Jain
tirthankars
- the 24th is Mahavira - were from royal families. The
diksha
ceremonies are celebrated in Jain folklore and imagery. In an earlier time, many Jain homes in Ahmedabad's old city had murals on their walls, depicting
diksha
ceremonies.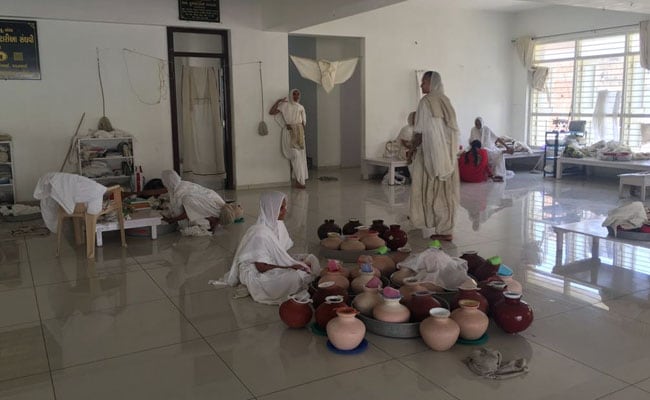 The final part of the ceremony involved the initiates going behind curtains where their hair was shorn. The first time, this is done with a blade. But later, twice each year, each Jain sadhu and sadhvi will have to go through a ritual called "keshlochan" (shedding of hair) where each strand is plucked out by hand. This deeply painful ritual signifies disregard for physical pain.
"We sleep on the ground, use no fans in the summer, no heaters or woollens in the winter. We walk bare-feet, we use limited water. We do not bathe, only sponge ourselves. You need great endurance for this. Keshlochan teaches us that," explained Heta.

Later in Ahmedabad, Maharaj Jinang Dharmashri, a Jain sadhvi at an upasraye in Sabarmati, gave a glimpse of the life that awaited Heta and Nidhi.

She had taken diksha when she was 19, following her elder sister, her mother, her maternal grandmother and father. Her father was at an adjacent upasraye for Jain monks, but she saw him only a few times a year.

"Look at all 51 of us here. We are young. We speak English. We come from rich backgrounds. We now live with nothing, but aren't we happy? We don't need facials for a glow, it comes from within," she said.

Jinang's elder sister had done brilliantly in her International Baccalaureate and was set to go to Dartmouth, but the strong tradition in her family drew her towards diksha. Both sisters were candid, unfazed by questions about a life with no water for a young woman constantly on the move.
"We are allowed to clean ourselves during our menstrual cycle. Your questions arise as you think this is an unnatural path, tough, even cruel. The truth is your life seem far tougher to us," she said.


Another Jain
sadhvi
at the
upasraye
in Tapvoan, a sprawling 38-acre Jain school linked to the Gujarat state board, said something similar.
"Your lives are bound,' she said, 'From the time you sleep to the time you wake up, you live for others -- your husband, your children, society, work. We are the ones who are free, independent."