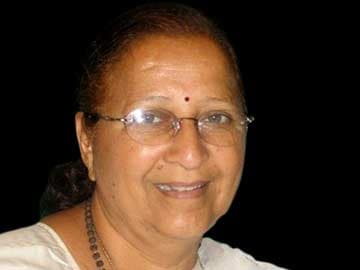 New Delhi:
Lok Sabha Speaker Sumitra Mahajan today denied the Congress' charge that she was partisan in her dealings with the Opposition in the House, and said that she was "giving everyone a chance to speak and function as democratically as possible.''
The Lok Sabha Speaker was responding to criticism from the Congress, which insinuated that she was acting under the government's influence in taking a call on the party's demand for Leader of the Opposition's position.
"Everyone can see I am giving everyone a chance to speak and function as democratically as possible,'' Mrs Mahajan told reporters when asked about the Congress' jibe. "As regards Leader of the Opposition, I have got a letter. I will look into it,'' she added.
The Congress had yesterday taken a jibe at the Speaker for the delay in taking a decision on its demand for the post. "The Congress has formally written to the Speaker (on granting the status of Leader of the Opposition) for over 10 days now, but she is yet to give her decision. I wonder what is delaying the decision. The delay raises fears that her decision may be influenced by the government," the party's deputy leader in the Lok Sabha Amarinder Singh had told a news agency yesterday.
The issue has cast a shadow on relations between the government and the main opposition party in Parliament.
The former Punjab chief minister, when asked about his criticism of the Speaker, today denied having said that she was "under pressure'' from the government. "I said she is a new Speaker and will do whatever the government says,'' Mr Singh argued.
The government's floor managers were, however, upset with the "partisan'' charge hurled at the Speaker. "The Congress leaders' reactions are outrageous. The Speaker is for the entire House. To cast apprehension against the Speaker shows desperation of the Congress,'' minister of state for parliamentary affairs Prakash Javadekar said.