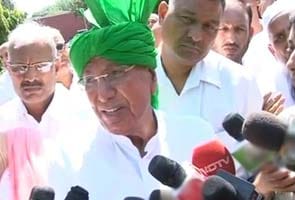 New Delhi:
A day after Sonia Gandhi strongly contradicted a Haryana khap -- a body of village elders which control social norms in rural areas -- for saying that girls should be married early to prevent rapes, the state's former chief minister Om Prakash Chautala backed this. The state has been rocked by a series of rapes, 14 in the last one month.
Mr Chautala, who is in the opposition, said, "We should learn from the past... specially in Mughal era, people used to marry their girls to save them from Mughal atrocities and currently a similar situation is arising in the state. I think that's the reason khap has taken such a decision and I support it." (
Post Your Comments Here
)
Even as Mr Chautala was comparing the rapes in Haryana to "Mughal atrocities" and supporting the reducing of marriage age for girls, another rape of a dalit was reported from the state. The woman was kidnapped and gangraped.
Mr Chautala's shocker comes a day after Congress president Sonia Gandhi said that it will be the judiciary that will decide on matter of law not khaps. The khaps are considered politically influential because of the power they wield in rural Haryana. They have been under criticism in the recent past for justifying honour killings, by quoting 'tradition.'
Girija Vyas, former president of the National Commission for Women says Mr Chautala should not have given such statement. "He (Mr Chautala) should be careful while reacting. We should be united and work towards it and not get influenced politically. If police and the government wants, they can work out these matters in a short period of time."
Women's rights activist Ranjana Kumari slammed Mr Chautala and said, "His statement condemnable. For someone who has been Chief Minister, he doesn't know the rule of law."
Mrs Gandhi was in Haryana's Jind district yesterday to meet the family of a dalit girl who committed suicide after being gangraped. The series of rapes have rocked Haryana and drawn severe criticism to the state government for not doing anything about this. Most of the rape victims have been dalits.
The state Congress chief on Monday had sought to deflect criticism by calling the incidents a political conspiracy.
Adding to this bizarre explanation, a member of a Rohtak khap said that that to prevent rapes, young girls should get married early. This was strongly criticised by activists across the country.