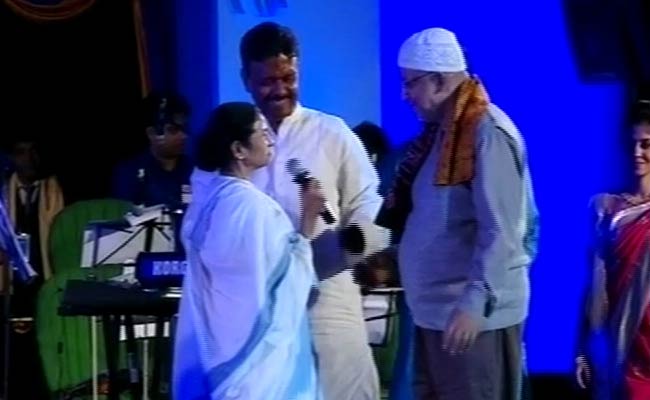 Kolkata:
Has the ice been thawed between Mamata Banerjee and her former MP Kabir Suman, who is also a well-known singer, but had fallen out with the West Bengal chief minister?

Today, Kabir Suman was honoured by Ms Banerjee at Nazrul Mancha at the inauguration of the Bangla Sangeetmela 2015, a week-long music festival across nine venues in Kolkata.

Not only was Mr Suman given an award, Ms Banerjee greeted him warmly and asked him to sing. "Sumanda, that you have agreed, that's enough, please sing for us," she said.

Kabir Suman responded saying, "The heart of this programme, our honourable leader. There was a time when it was difficult to sit next to her. If you did, progressive people would bad-mouth you. Those days have changed." He then broke into song.

The 65-year old singer joined Trinamool in 2009 and won the Jadavpur Lok Sabha election on a Trinamool ticket. But, soon after, he fell out with Ms Banerjee, composing and singing a scathing song about the way she ordered the arrest of a farmer in West Midnapore for questioning her about fertiliser prices.


Ever since, their relationship went downhill. In 2014, Mamata Banerjee gave the Jadavpur ticket to Professor Sugata Bose.
Recently, however, Mr Suman has been publicly attacking the BJP and praising Ms Banerjee for taking on the party at the Centre. He has said Ms Banerjee must resist the BJP-RSS forces. He also said the entire Burdwan blast incident in October last year and its fall-out was a BJP conspiracy.
With the chief minister slated to go to Dhaka on February 19, there were reports that Mr Suman, who is extremely popular as a singer in Bangladesh, would be part of Ms Banerjee's delegation to that country. The singer is reported to have expressed his inability to go because of ill health. Or return to politics.