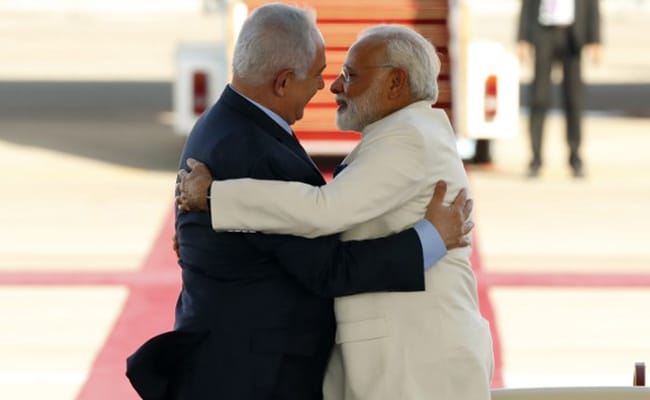 Highlights
PM Modi and Benjamin Netanyahu took a stroll on the beach yesterday
PM Modi's Israel visit is the first-ever by an Indian Prime Minister
Seven deals in various sectors were signed between India and Israel
Narendra Modi's 49-hour visit to Israel this week, the first ever by an Indian prime minister, was a public love-fest with his counterpart Benjamin Netanyahu. The two leaders repeatedly affirmed their shared goals and friendship and even waded barefoot in the Mediterranean surf.
Equally important was what didn't happen: Modi broke with diplomatic protocol by snubbing the Palestinian Authority in Ramallah, barely a 30-minute drive from Netanyahu's Jerusalem compound. There was no pro-Palestinian advocacy, no mention of an independent Palestinian state alongside Israel, and only a vague comment in a joint statement Wednesday -- the 20th of 22 points -- on the "need for a just and durable peace in the region," with no indication of how that might look.
One of Netanyahu's main goals has been to "de-hyphenate" Israel's international relations -- to show that nations can disconnect their ties to Israel from the peace process with the Palestinians, and in particular to persuade them that not every gesture toward the Jewish state has to be balanced with a nod to "Israel-Palestine." Modi's cold shoulder triggered protests in Ramallah, the Haaretz newspaper reported Thursday.
"Not to include any visit to the Palestinian side shows the change and the importance of India's relationship with the Israeli side," said Mazen Shamiah, a Palestinian Authority Foreign Ministry official for Asia and Africa. "We were afraid that the development of the relationship was going to benefit Israel at the expense of India's moral, humanitarian and historic commitment to its relationship with Palestine."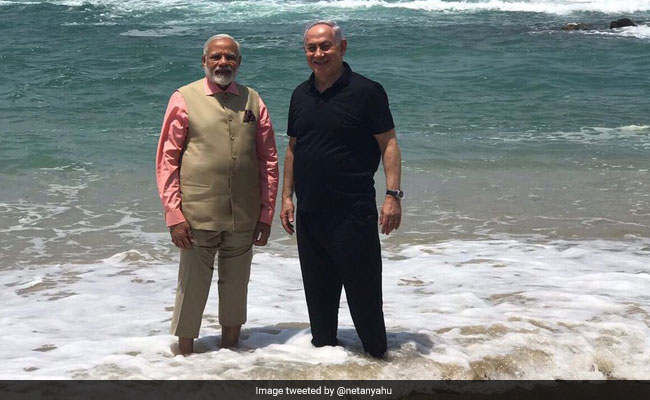 Few countries are potentially as valuable to Israel as India. Born nine months apart in the post-World War II collapse of the British empire, the nations share a democratic tradition and are both located in unstable neighborhoods.
Yet it's their differences that create areas for collaboration: Israel is a defense exporter willing to share its technology with a country seeking to extend its "Make in India" campaign to weaponry. Israel is an innovator in agriculture and water technology, where India has pressing needs. And India's 1.3 billion citizens present a large market for Israel, a country of 8.4 million people with few commercial ties in the Middle East.
"What we're seeing here is a relationship that's based on each side feeling that the other side has a tremendous amount to offer them," said Eli Groner, director-general of Netanyahu's office. This "is a paradigm for how Israel would like to have its international relations -- based on a shared vision and mutual interests."
Israel's trade with India has grown from about $200 million in 1992, when they established diplomatic ties, to nearly $4.2 billion last year, according to Israel's Economy Ministry. A report by Accenture and Nasscom said cross-border investments between Israel and India could produce as much as $25 billion in sales by 2025.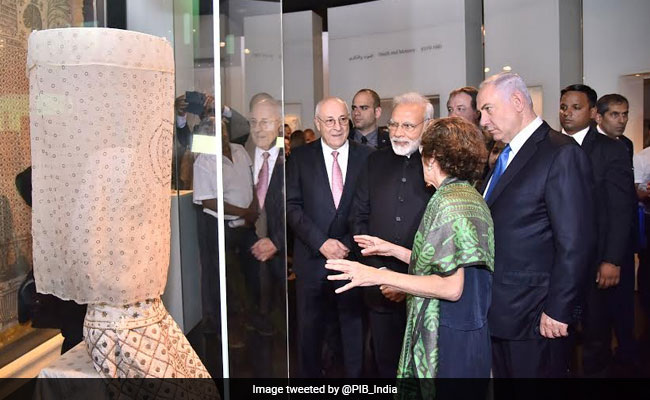 The two sides announced several defense deals this year, including a $2 billion contract for Israel Aerospace Industries Ltd. and Rafael Advanced Defense Systems Ltd. to supply India with missile-defense systems. While no major deals were announced during Modi's visit, the two signed agreements focusing on water, agriculture and space, and established a $40 million fund for research and development projects. Days earlier, the Israeli government passed a 280 million shekel ($79.3 million) budget to promote exports to India.
Netanyahu and Modi also agreed to expand intelligence cooperation, according to a senior Israeli security official. The aim is to have a plan ready for Netanyahu's visit to India tentatively scheduled for late this year, the official said.
Netanyahu has been touting his success in expanding Israel's ties with developing nations, including a breakthrough tour of East Africa last summer, saying Israel's technology and anti-terrorism expertise can attract new allies.
Ultimately, what Israel wants from these countries -- just as much as trade -- is diplomatic support, and it's not clear that stronger commercial ties will translate to pro-Israel votes at the United Nations or other international bodies. India has begun to abstain on some UN resolutions critical of Israel, including a UNESCO measure in May that blasted Israeli policies in Jerusalem.
"We shouldn't exaggerate: Israel isn't going to become the darling of international bodies anytime soon. It has a massive amount of ground to recoup," said Jonathan Spyer, a political scientist at the Interdisciplinary Center Herzliya. But "at the end of the day, bilateral relations are really what count in the real world," he said.