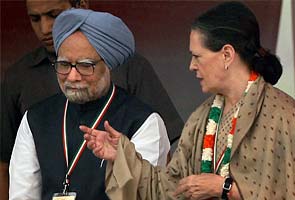 New Delhi:
The Congress-led UPA government has called for a meeting of its coordination committee on Monday to consider options to pass the Food Security Bill.
The government is keen to forge a consensus with allies and the Opposition; a meeting of the Congress Core Group was convened on Saturday to discuss whether a special session of Parliament should be called or the government should pass an ordinance to implement the food bill. The government's strategy will be finalised today.
Ahead of the UPA meeting, BJP leader Sushma Swaraj tweeted, "There are media reports that Government is considering the option of an Ordinance or to convene a special session of Parliament to pass the National Food Security Bill. The ordinance route for such an important legislation is not desirable. We are not opposed to a special session of Parliament. However, the better option would be to move ahead the Monsoon session which is anyway due in July."
The UPA meeting will provide an opportunity to the Congress top brass to understand the mind of the allies on the Food Security Bill and the Land Acquisition Bill which many in the Congress call game-changers ahead of the Lok Sabha elections.
An all-party meeting is scheduled for June 7 to evolve a consensus on the key bills, sources said.
At the three-hour-long Congress Core Group meeting chaired by party president Sonia Gandhi, with Prime Minister Manmohan Singh by her side, it was decided that Parliamentary Affairs Minister Kamal Nath will speak to other political parties and if they agree, a special session may be convened to take up the bill, sources said.
The meeting took place a day after the PM accused the Opposition of playing "obstructionist" role in Parliament and made a fresh appeal to the political parties to help the government clear important legislation.
The Food Security Bill, a pet project of Mrs Gandhi, aims to give legal right over a uniform quantity of 5 kg foodgrain at a fixed price of Rs 1-3 per kg via ration shops to 67 per cent of the population.
The bill could not be passed in the Budget Session that came to an end last month due to disruptions.